Best Weight Bench Reviews
A home gym isn't a home gym without a good weight bench and there are plenty of different brands and models to choose from. However, not all of them are as good as they claim to be. That is why in this guide we will be highlighting the best weight bench UK residents can buy in our top 10 reviews. As usual all of the models reviewed come with good customer feedback and are among the best sellers in the UK, which is usually a good indicator of quality.
So lets take a look!
Top 10 Weight Benches
Gallant Weight Lifting Utility Bench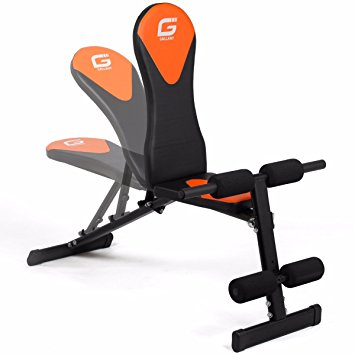 The Gallant brand are well-known for making good quality and affordable fitness equipment. For a cheap utility bench this model comes with some good customer feedback on Amazon and has an impressive four star rating.
The frame is made from durable steel and the overall design is actually quite
One problem a lot of affordable weight benches have is that the upholstery is not the best. However, the Gallant utility bench utilises a durable synthetic material to its best ability and it tends to last a while.
With a maximum user weight of 100 kg, this may not be the best bench for the biggest of muscle heads. Ideally this is suited to people of light and average weight.
There are four adjustable positions between flat and 90 degrees with this bench. In addition it can be used as a sit up bench when in the decline position.
To sum up: For a cheap weight bench under £50 buyers will struggle to get anything better than this model. The gallant brand are known for their good quality and affordability. All in all a good beginners bench, however, do remember if strength training is something you are serious about then you will need something with a better weight capacity at some point in the future.
York Fitness 5 Seat Position Bench
York Fitness make some of the best home gym equipment available. The York Fitness 5 seat position bench is one of the best sellers in the UK.
When it comes to strength training this is a very good weights bench. With a maximum user weight of 200 kg this model is suitable for most people. In addition the durability of this product goes without saying, as it is made from the best materials with a solid and very sturdy design.
There are five adjustable positions and there is no need to fiddle with pins. Changing the incline angle is done simply by moving the back rest support bar to the desired level.
Another feature includes a mini dumbbell rack below the bench. Take note the weight of the dumbbells that can be stored is minimal.
To sum up: Overall this is a very good adjustable weight bench from a reputable brand. With an impressive maximum weight capacity and countless positive reviews this model comes highly recommended.
Bodymax CF325 FID Utility Bench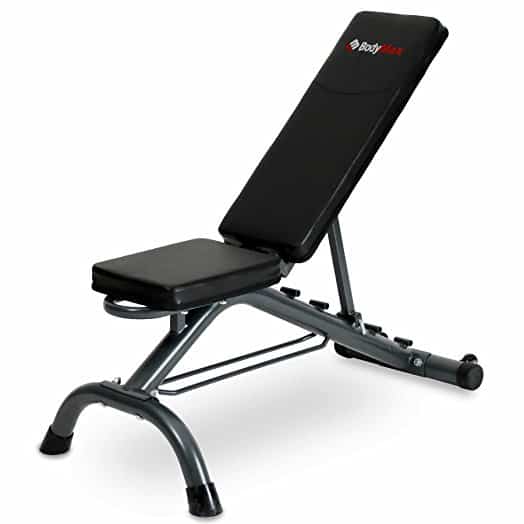 Bodymax are another brand with a good reputation for their quality fitness equipment. The Bodymax utility bench is similar in design to the previous featured model the York Fitness 5 seat position bench but costs a bit less.
With five positions adjustable from flat to 90 degrees, a durable synthetic upholstery and thick padding, there really isn't that much difference between the two models. There are two noticeable differences though. These are the maximum weight capacity, which is 180 kg and 20 kg less than the York weights bench 200 kg. The second difference is the fact that quite a few reviews say this bench is only suitable for people 5 ft 10 or under.