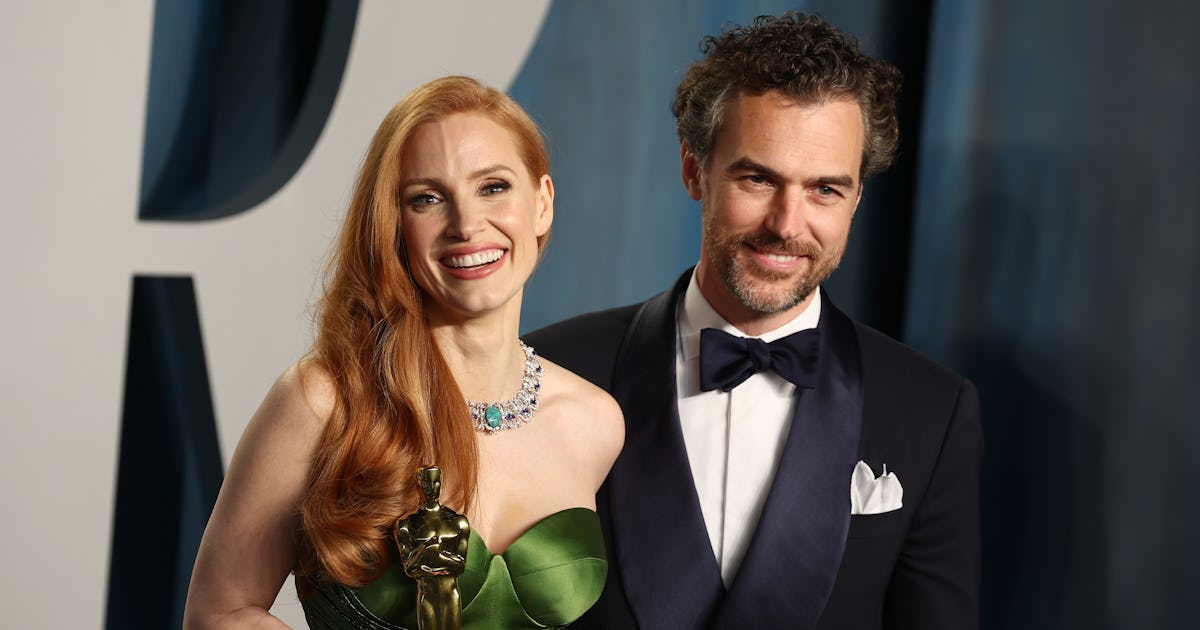 Jessica Chastain's latest project George & Tammy tells the story of real-life country music couple George Jones and Tammy Wynette's highly-publicized relationship. In the past, Chastain kept her own private life private, but that changed briefly in 2017 when the Oscar winner married her husband Gian Luca Passi de Preposulo in a stunning Italian wedding at Villa Tiepolo Passi. The George & Tammy star started dating the public relations mogul in 2012, and while it's not confirmed exactly how they met, it wouldn't be a stretch to assume that Passi de Preposulo's job as a publicist for luxury fashion houses had something to do with it.
In 2009, Chastain's husband was the PR director at Giorgio Armani. Chastain exclusively wore Armani in her 2009 film A Most Violent Year, but it's unclear whether Passi de Preposulo had a hand in brokering that collaboration. Now, he works as PR director of events and entertainment for Moncler, another luxe Italian fashion brand, which makes sense given his roots. It turns out that Passi de Preposulo's family is so prestigious that they have their own Wikipedia page. Even though Italy no longer acknowledges the aristocracy, Passi de Preposulo (who is a count) and his family still use titles.
A few months after their 2017 wedding, Chastain told The Wall Street Journal that she never pictured herself walking down the aisle, but changed her mind after meeting Passi de Preposulo. "When I first met my husband, he knew that marriage wasn't something I was interested in," she said. "And then as we got to know each other, the idea of marriage shifted for me. There are some things worth celebrating — and he's worth celebrating."
Passi de Preposulo's family owns Villa Tiepolo Passi, his childhood home and the estate where he married Chastain, located roughly an hour away from Venice in Treviso. According to the villa's website, his family's heritage in the region can be traced way back to 973 A.D. (yes, you read that right), but they established themselves as a part of the aristocracy in the early 1300s.
The estate's website also notes that they "held important civic and religious positions in Bergamo and acted as direct interlocutors with the emperor." However, Italy no longer recognizes the family as an aristocracy, despite having many counts and countesses in their legacy.
The villa has been around since the beginning of the 16th century, with the Passi de Preposulos assuming ownership in the 1600s. Today, the family makes their own prosecco — Prosecco di Villa Tiepolo Passi — and offers guided tours of the villa. You can even stay in a luxurious apartment in one of the outbuildings, though it's unclear how much that costs.
Aside from his post at Moncler, Passi de Preposulo is focused on his prosecco brand Fiol, which he launched with two childhood friends in 2010. Since tying the knot in 2017, he and Chastain have kept their marriage relatively private, but they still make the occasional Instagram appearance.
In 2018, the couple welcomed their first child, daughter Giuletta Chastain Passi. In March 2020, it was rumored that they gave birth to a second child, but these reports have not been confirmed.
They also support each other's projects, with the couple walking the red carpet of Chastain's Eyes of Tammy Faye premiere in September 2021, along with making an appearance at the 2022 Academy Awards together. When she won the Oscar for her performance that year, she gave their children a sweet shout-out at the end of her acceptance speech. "Giuletta, Augustus, you are my heart and I thank you all very, very much. Thank you."
This article was originally published on