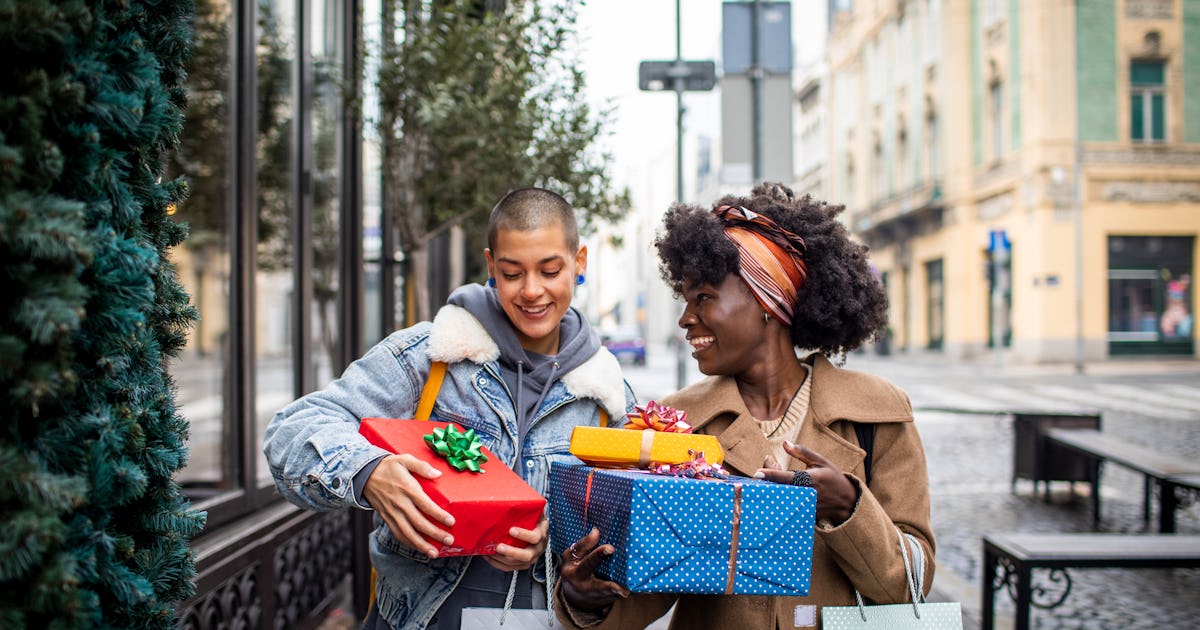 Ah, the holiday season, when good cheer is in the air, and bank account balances are working in overdrive like Santa's elves. While most love shopping for their nearest and dearest, we often don't talk about overspending around the holidays, which can make getting a strong financial start to the new year challenging. So whether you're a college student managing your own money for the first time or a parent trying to teach their kid about seasonal spending, these tips will help you budget without sacrificing the holiday spirit.
Make A List, And Check It Twice
One of the easiest ways to keep holiday spending in check is to make a list of the gifts you plan to buy — and how much you're willing to spend on each — before you get to the store or open your browser. Who among us hasn't walked into a superstore for "just one thing" only to emerge with several things not on their list? Just like you shouldn't go to the grocery store hungry, you should not start holiday shopping without double-checking your list. And, Chase can help. With the Chase Mobile® app, you can tap into its Budget feature to set and adjust spending limits prior to starting your shopping.
So make a game plan ahead of time, and be mindful of checkout aisle knick-knacks and internet pop-up promotions so you don't stray from your list and budget.
Plan How You'll Pay
Just like it helps to make a shopping list of what you'll buy in order to avoid impulse purchases, it's also important to decide how you'll pay for your holiday expenses. Most of us rely on cashless commerce these days, using debit cards, credit cards, or tap-to-pay. But if you want to be strict with your budget, consider withdrawing cash from your checking account in advance and paying in person, the old-fashioned way. If that sounds too "OK, Boomer" for you (fair), use the same debit card whenever possible. Chase's College Checking is ideal for those college students just starting out on their budgeting journey. Features like Daily Snapshot and Autosave will help you keep your spending, saving, and budgeting on track. Credit cards should be used with care and attention — it's especially easy to go overboard when you don't get the bill right away. Let visions of those January statements dance in your head, and be sure to monitor your account balance while you spend to stay on track.
Find The Most Bang For Your Buck
One-stop shopping saves time but not always money. Take a few hours before the holiday shopping panic hits to compare prices online and find the best deals for the items on your list. Even a few dollars saved on each gift can add a buffer in your bank account. If you're shopping online, try to take advantage of seasonal deals or coupon codes. And beware of additional costs like taxes or shipping fees, which can hinder even the savviest budgeter.
Shop IRL Whenever Possible
It is tempting to have literally anything you want delivered to your doorstep, but consider the financial bonuses of IRL shopping. You'll avoid shipping fees, ensure everything arrives on time, and give yourself the option of paying in cash — as we mentioned earlier, this is a great way to stick to your budget. With Chase's account alerts, you can manage and protect your account with notifications for things like a high transaction or when a payment has posted. Plus, who doesn't want to hear the top holiday hits play over and over again in a brick-and-mortar store and soak up the spirit of the season?
Think Outside Of The Gift Box
You can also get creative and come up with gift ideas that won't cost a ton (if they cost anything at all). Maybe you have a talent that can be turned into a homemade gift: a personalized story or poem, a ceramic mug, a sentimental photograph in a recycled frame, or a signature recipe. Or, maybe you can offer a loved one an experience more meaningful than a store-bought present: make dinner for a friend, or babysit for a parent in your life who could really use a date night. Regifting gets a bad rap, but if you have something that you won't use, there's no shame in giving it away to someone who would love it.
Hold Yourself Accountable With A Post-Holiday Debrief
It's easy to get caught up in the festive spirit and go over budget on holiday spending, so once the wrapping paper mess has cleared, be sure to assess how your holiday shopping went and whether or not you were able to stay on budget. If you did go overboard, check your bank account balance against your budget to figure out what happened. Did you buy gifts that weren't on your list? Did you make too many small impulse purchases? Maybe you relied on credit cards for things you couldn't afford up front? While these missteps are common and forgivable, acknowledging and owning them will help you to do better next year. And that's a gift to yourself that will keep on giving.
Bank deposit accounts, such as checking and savings, may be subject to approval. Chase Mobile® app is available for select mobile devices. Message and data rates may apply. Deposit products provided by JPMorgan Chase Bank, N.A. Member FDIC.