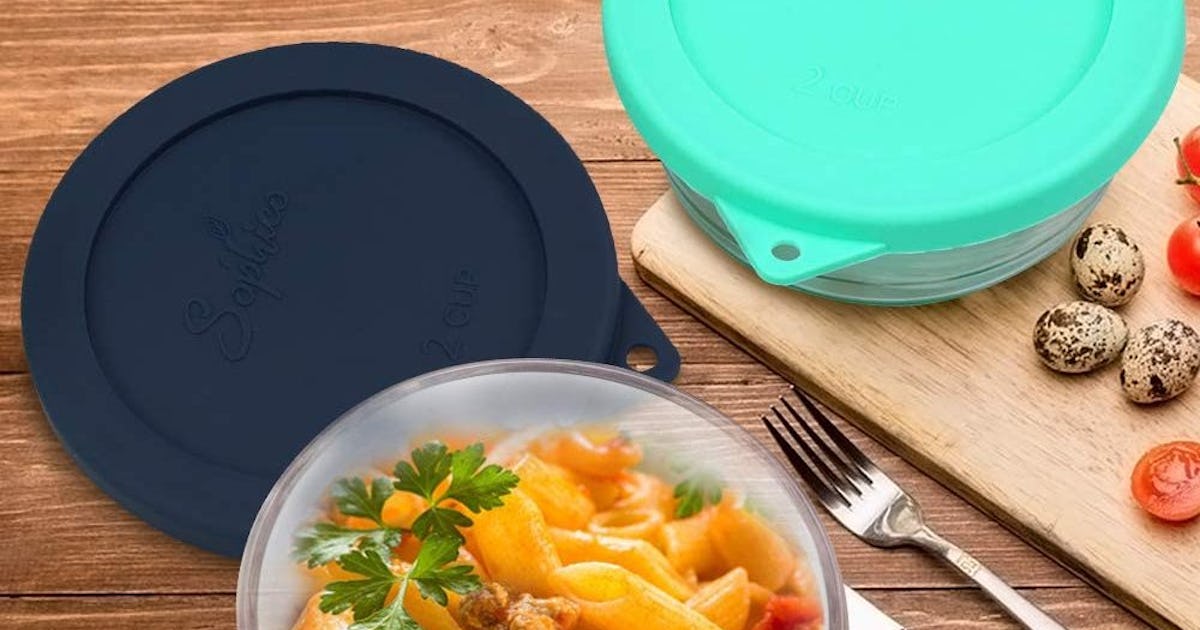 The glass part of a Pyrex storage container is durable and versatile — but shoppers often find themselves asking, "Why do the lids break so easily?" Fortunately, the best alternatives to Pyrex lids are cheaper and stronger, all at the same time. To ensure that your replacement lids are better than the originals, check that they're the right size and safe. Plus, most are durable enough for the microwave, freezer, and dishwasher.
What To Consider When Shopping For Pyrex Lid Alternatives
First, let's talk about size. When you're shopping across brands, it can be difficult to mix and match pieces. That's why your best bet is a material with a little give. If it's stretchy or can otherwise adjust to work with various shapes and sizes, it'll save you some serious headaches when it comes time to put away leftovers since you won't have to spend as long looking for just the right lid.
Next, consider safety. Most Pyrex lids are BPA-free and top-rack dishwasher safe. To get the same benefits, you'll want to check to see what your replacement lids are made out of before you purchase. BPA-free silicone is a great option here, not just because of the safety factor but because of the stretch and durability.
And speaking of durability, it's paramount — especially for those who are here because their original lids have cracked and broken. Read the descriptions and reviews to ensure that the lids can take moisture from the dishwasher, heat from the microwave, and cold from the freezer. Even if you don't typically subject your lids to these environments, these qualities will help them to stand the test of time as well.
Shop The Best Alternatives To Pyrex Lids
In a hurry? These are the best Pyrex lid alternatives on Amazon:
1. The Overall Best Lids For Round Pyrex Bowls: unwanted Reusable Silicone Lids
2. The Overall Best Lids For Rectangular Pyrex: Longzon Rectangular Silicone Stretch Lids
3. The Best Fit For Pyrex's 2-Cup Bowls: Sophico 2-Cup Round Silicone Storage Cover
4. The Easiest To Use: Perfect and Simple Silicone Bowl Lids
5. An Eco-Friendly Beeswax Option: Bee's Wrap Reusable Beeswax Food Wraps
With those considerations in mind, scroll on for the best alternatives to Pyrex lids, all of which have been tried and approved by Amazon shoppers.
1. The Overall Best Lids For Round Pyrex Bowls
If you have various sizes of round Pyrex bowls, this seven-piece set from unwasted is the way to go. The silicone material is stretchy and flexible (so technically, it'll fit containers of most shapes, not just round ones), but it's best suited for round bowls between about 2.6 to 12 inches in diameter. Because the lids are transparent, you can see exactly what you're storing — and they're nontoxic and BPA-free, as well as safe to put in the dishwasher, microwave, and freezer. You can even place them over open soda cans or directly over cut fruit like cantaloupe or watermelon, and the set comes with a cotton mesh bag for easy storage.
One reviewer wrote: "Finally found a lid that would fit my largest vintage Pyrex mixing bowl. All of the silicone lids have come in very handy for covering dishes, bowls, glasses and odd shaped pans and serving dishes from rectangle to a leaf shaped serving candy dish. Best purchase I've made. Would buy again."
Material: Silicone | Compatible with: 2.6-inch to 12-inch containers | Dishwasher- and microwave-safe: Yes
2. The Overall Best Lids For Rectangular Pyrex
For rectangular containers, there are these Longzon stretchy lids. They're also made from flexible, BPA-free silicone, so they'll fit a wide variety of shapes and sizes (including round shapes), but thanks to the corners, they're the best option for rectangular Pyrex bowls. Throw them in the freezer, microwave, and dishwasher to prevent frost, splatter, and germs, and reuse them over and over again due to their durability. Since they come in a pack of 12 (six different sizes and two different colors) for less than $20, they're also the best value here.
One reviewer wrote: "I was skeptical, but these work as advertised! Perfect for my old glass Pyrex that have missing or broken lids. And yes your glass needs to be dry in order for these to stick but that's not an issue for me at all. I wouldn't stack anything heavy on top, but it can withstand the weight of a load of bread."
Material: Silicone | Compatible with: 2.6-inch to 10.4-inch rectangular containers | Dishwasher- and microwave-safe: Yes
3. The Best Fit For Pyrex's 2-Cup Bowls
When it comes to Pyrex, the brand's 2-cup bowl is one of its most popular options. Maybe that's why Sophico made this two-pack of replacement lids, and at $11 for the set, they're a great deal. Best of all, since these are made from 100% food-grade silicone instead of plastic, they're BPA-free, temperature-safe up to 446 degrees Fahrenheit, and extremely durable. Last but not least, the tight fit reduces spoilage and spills, while the tab has a hole for storage and drying. Get them in orange or red, or opt for four-packs in additional shades. While the brand doesn't specify that they're microwave-safe, many customers report using them in the microwave without problems. They're also safe for the dishwasher and freezers down to -104 degrees Fahrenheit.
One reviewer wrote: "Does what I need it to do! I had some Pyrex lids that cracked and weren't doing the job. These are the perfect replacement and are leak proof. The lighter color does stain with red sauces so just be aware of that. I will be replacing other lids in different sizes too."
Material: Silicone | Compatible with: 2-cup round containers | Dishwasher- and microwave-safe: Yes, according to reviewers
4. The Easiest To Use
With these BPA-free silicone covers from Perfect and Simple, you can say goodbye to imperfect fits and struggling with the corners. That's because the suction-cup design creates a tight seal on top of just about any container — simply by pushing down on the center knob. Yes, they work on round Pyrex, but Amazon reviewers have also used them directly on mugs, pans, coffee pots, and cans of cat food to keep contents fresh. Because they're thick, flexible, and can withstand the dishwasher, microwave, oven, freezer, and stove, the word "durable" has been used dozens of times in reviews. Each pack comes with five sizes, and shoppers can choose from four colors.
One reviewer wrote: "Easy to clean. Snug fit on my glass, Pyrex and stainless steel bowls. I'm happy not having to transfer my food from bowl to storage container. Just pop lid on and it makes an airtight seal for storing in the fridge."
Material: Silicone | Compatible with: 5-inch to 10.2-inch round containers | Dishwasher- and microwave-safe: Yes
5. An Eco-Friendly Beeswax Option
They're not dishwasher- or microwave-safe, but these Bee's Wrap beeswax wraps offer something the rest of the brands don't: The ability to fully biodegrade once you no longer need them. Instead of plastic or silicone, they're made from 100% certified organic cotton and coated in a food-grade beeswax to keep your food fresh, both in glass containers and when wrapped independently. Unlike plastic wrap, however, they're washable and reusable, making them a healthy choice for you and the environment. Each pack comes with a wrap in three different sizes. Assorted prints are also available.
One reviewer wrote: "Seriously love this product it is sooooo much better than plastic wrap and smells great and has a slight stickiness to it making it work great for wrapping literally anything. If you are thinking about switching from endless wasteful plastic wrap to this alternative then you have to get this!"
Material: Cotton and food-grade beeswax | Compatible with: 7-inch to 14-inch containers | Dishwasher- and microwave-safe: No
This article was originally published on