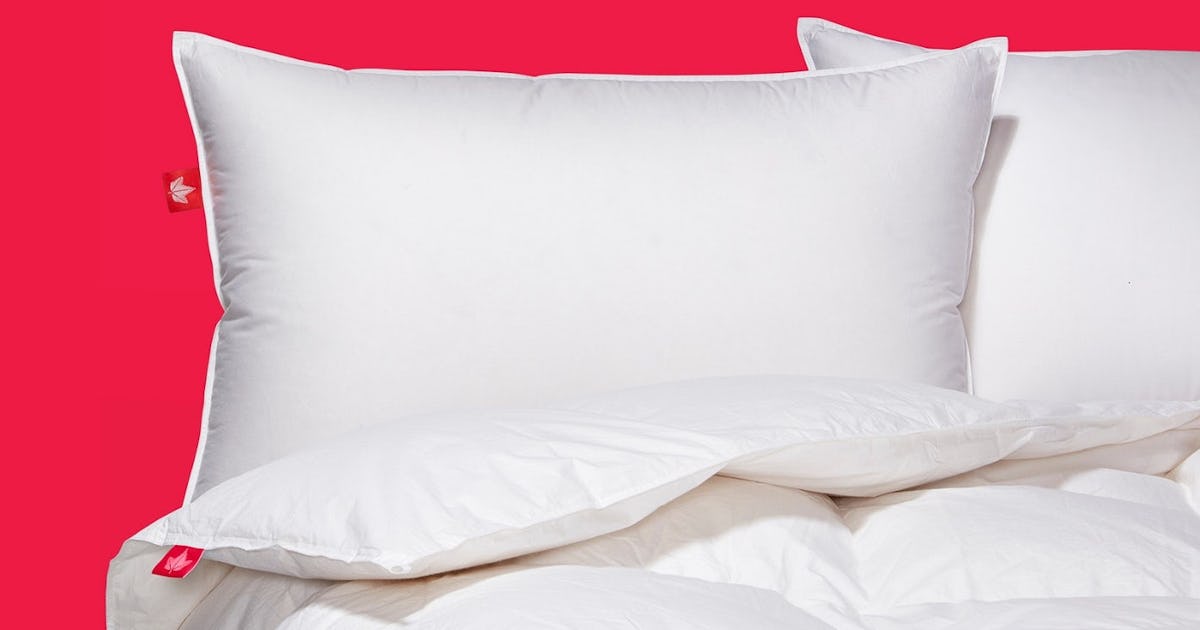 With lots of media out there on sleep hygiene and ways to improve our nightly routines, it's clear that choosing the right bedding can be a worthwhile investment in self-care. When shopping for comforters and pillows, it's hard to resist the snuggly qualities of down and feather bedding. Not only do they have a lower carbon footprint than other filler materials, but their cozy softness is also made to conform to your body's natural curves.
If you're searching for an ethical, hypoallergenic source of down and feather sleep products to help you sleep better at night, the Canadian Down & Feather Company is a brand receiving praise for their high thread counts, 100% cotton linings, and bedding options that cover all seasons. Their comforters and pillows come in a variety of weights and warmth ratings, so they've got your number whether you're a chilly sleeper or get the night sweats.
The Duvet For All Seasons
What's Better: Down or Feather?
Down is the soft, insulated undercoating of feathers closest to a bird's skin — it consists of light, fluffy filaments that look almost like dandelion heads. Feathers, meanwhile, are a bird's more resilient, protective outer layer. When it comes to comforters, down is the better insulator, providing more warmth per ounce than feathers. Feathers require more fill, therefore they're heavier than bedding filled with down. If you prefer weighted comforters (or want something more substantial for the colder months) the White Goose Feather Duvet could be what you're looking for.
What Does Loft Mean?
Loft measures the fluffiness of down and can indicate the down's overall quality. Down is generally more expensive than feathers due to its luxurious feel and excellent insulating properties. It's also scarcer — a bird yields more feathers than it does fluffy down.
For The Hot Sleeper
If you're kicking off the blankets at night, this duvet in the "summer weight" option might be what's needed for hot sleepers or bedrooms that tend to be kept at warmer temperatures.
What's Hutterite Down And How Is It Different?
Hutterite colonies are self-sufficient communities similar to Amish or Mennonite communities, many of which are located in the Canadian prairies where birds are free to roam the open landscape. Hutterite-raised geese and ducks provide high-quality feather and down, and because the birds are raised as a primary source of food, they don't use growth hormones or overfeed them — and they're allowed to grow to full maturity. The down and feather yield from these birds is loftier, longer and fuller, and is world-renowned as one of the finest fills available.
For The Luxury Lover
If you're looking to splurge, you'll likely do well with the 850 Loft Hutterite Goose Down Duvet. This duvet is made with 500-thread-count cotton and 850-loft Canadian goose down, making it super-soft and cloud-like.
Does Canadian Down & Feather Have A Feather And Down Alternative?
The Microfiber Down Alternative Duvet is made with a plush microfiber fill. Fabricated from high-quality polyester that mimics the softness of down, it's encased in a 260-thread-count cotton shell that is crisp and durable. Since microfiber doesn't have the same insulating properties as down, microfiber duvets are heavier. One benefit is that they can be machine-washed at home (natural down and feather are sensitive to moisture). For pillows, the company does a soft Microfiber Down Alternative Pillow that also comes in a Gel version for medium support.
For The One Who Snacks In Bed
This plush microfiber duvet and pillow is machine washable — enough said.
Is The Down And Feather That Canadian Down & Feather Company Uses Ethically Sourced?
All of the down and feather used by the Canadian Down & Feather Company is a by-product of the meat industry that would otherwise go to a landfill. The company also adheres to the IDFL Down Standard, which means all down and feather is traced by IDFL's Audit System. This system involves rigorous inspections of the entire supply chain, from the parent farm to the end retailer.
Under the IDFL Down Standard, suppliers must also be aware of their environmental impact and demonstrate a commitment to reducing their climatic footprint. The Canadian Down & Feather Company is Carbonzero certified, which means they've measured and offset the greenhouse gas emissions generated by their facility.
What Is The Best Fill For Pillows?
For pillows, down provides minimal head and neck support, whereas feathers offer more resilient support and firmness due to the springy quills. Most of the brand's pillows come in multiple weights, so you can choose from soft, medium and firm options.
Choosing the right pillow often comes down to your sleeping style. Side sleepers tend to need a lot of support in order to keep their head elevated and aligned, while back sleepers or combination sleepers prefer moderate support. Front sleepers typically benefit from a softer, flatter pillow usually made from feathers. To find the pillow that's right for you, take the company's quiz here.
For The Side Sleeper
Side sleepers benefit from extra support for even neck alignment. The Down Perfect Pillow has a feather core that provides good support, while the down in the outer chambers provides a soft buffer against the feather quills.
For The Back Sleeper
Medium-loft pillows tend to work well with back sleepers, offering mild support that won't prop up the head too much — but also prevents it from tilting back too far. The Gel Microfiber Pillow is a great in-between option.
For The Stomach Sleeper
Front sleepers need a softer, flatter pillow to reduce neck strain and encourage even neck alignment. A squishy pillow such as the Microfiber Pillow is a perfect match.
For The Combination Sleeper
If you're going from your stomach to the starfish position, you'll want a pillow that works for all sleeping movements. The Down Perfect White Feather & Down Pillow props the head up just enough for front or back sleeping, while also providing enough support for side sleeping.