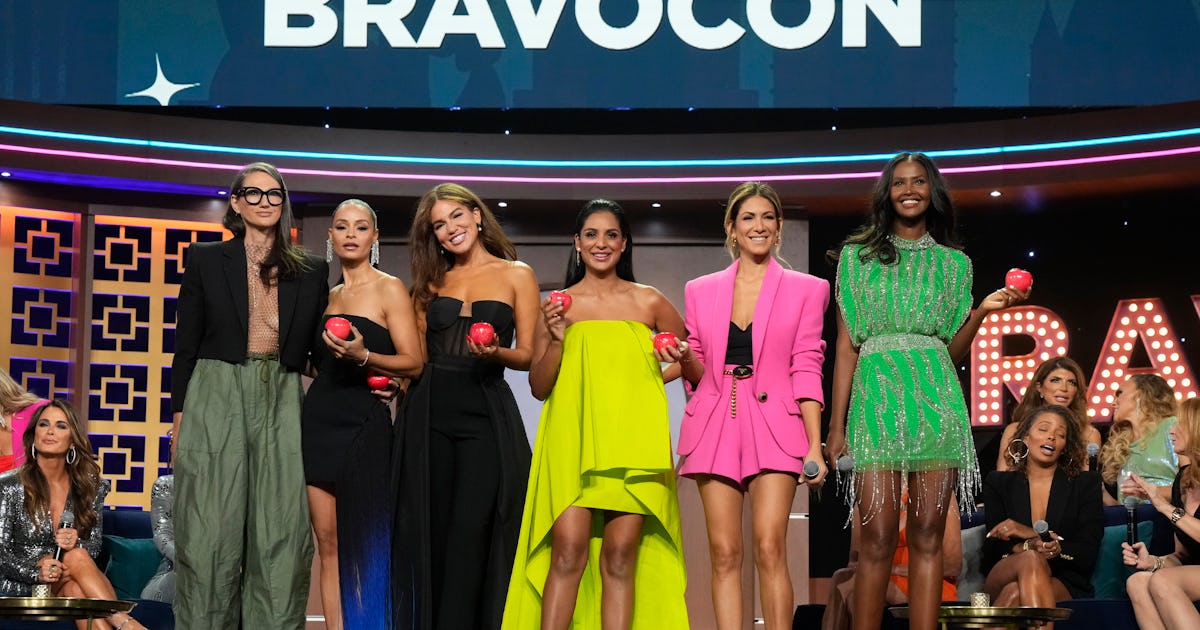 Well, Season 13 was not the greatest for the cast — and fans — of the Real Housewives of New York City. Much of the city was shut down due to the pandemic as the Housewives filmed, and cast members garnered backlash throughout the season, leading to a first in Real Housewives history. In September 2021, Bravo pulled the plug on the multi-episode reunion special, citing "scheduling changes around taping" as the reason. However, more plausible explanations for the cancellation quickly emerged.
Ratings for RHONY Season 13 fell to an all-time low (even if Rihanna was among the show's fans). As reported by Variety, the Aug. 31 season finale drew only 841,000 viewers, whereas last season's finale drew more than 1.1 million. In addition, Variety reported in November 2021 that Eboni K. Williams, the series' first Black Housewife, filed a complaint against her castmate Ramona Singer, alleging that she made a racially insensitive statement while filming. Bravo conducted an internal investigation into the allegation, in which Ramona was cleared, but the complaint reportedly made filming a reunion or planning for Season 14 much more complicated.
Thankfully, Bravo's cancellation statement did assure fans that RHONY would receive another season. "It's disappointing to not be able to bring the cast back together, but we are happy to have ended on such a high note with the finale, and are now shifting our focus to next season," the statement read. However, when RHONY finally returns to our screen, the show is going to look a lot different. Here's everything we know so far about RHONY Season 14.
How Will RHONY Season 14 Look?
Bravo announced in March 2022 that in another Real Housewives first, RHONY will be split into two entirely different shows. Season 14 will essentially be a complete reboot with an entirely new cast, with Bravo aiming to depict a diverse friend group that represent New York City from all angles. "This is the most multicultural, diverse, and energetic and exciting city in America," Real Housewives honcho Andy Cohen told Variety. "We're looking for a group of women who are real friends, and who are of diverse backgrounds, races and religions." However, your favorite 'Wives won't be gone forever.
A second series, which is currently going by the working title of RHONY: Legacy, will follow all-star Housewives that starred in previous seasons. While the cast for Legacy has yet to be officially confirmed, this essentially means that the OG Housewives and longtime fan favorites in the Season 13 cast, Ramona Singer, Sonja Morgan, and Luann de Lesseps, will be moved to Legacy — should Bravo send them an offer and they choose to participate. However, newer additions Leah McSweeney and Eboni K. Williams essentially had to re-audition for a spot on the show, and from the looks of it, they didn't make the cut.
RHONY Season 14 Cast
On Oct. 16, during BravoCon 2022, Andy Cohen revealed the new Real Housewives of New York City. Sai De Silva, Ubah Hassan, Erin Lichy, Jenna Lyons, Lizzy Savetsky, Jessel Taank, and Brynn Whitfield were announced as part of the Season 14 cast during one of the BravoCon episodes of Watch What Happens Live. A subsequent press release confirmed that the new season would follow this group of "seven dynamic women who run in the same social circles." "These women have made their mark in NYC and will now share their lives as they juggle careers, family life and jam-packed social calendars in the city that never sleeps," Bravo said.
The new Housewives started filming just days later, but not even a month into production, changes were already being made. On Nov. 17, Page Six reported that Lizzy was no longer filming for RHONY, and she later confirmed she would not star on the show due to anti-Jewish comments in an Instagram post. "As a proud orthodox Jewish woman, I thought participating in this series would be a great chance to represent people like me and share their experience," she wrote. "Unfortunately, from the time of my anouncemnt in the cast, I was on the receiving end of a torrent of antisemitic attacks. As this continued, I realized that this path was no longer right for me and my family."
RHONY Season 14 Premiere Date
Bravo has yet to confirm a premiere date for RHONY Season 14, as production on the season has yet to wrap. Originally, Daily Mail reported that the season will begin shooting in early 2022, but given how it didn't start until the end of October, it's likely that Season 14 will only premiere in spring 2023 at the earliest.
This post will be updated with additional cast and premiere details as more information on RHONY Season 14 becomes available.