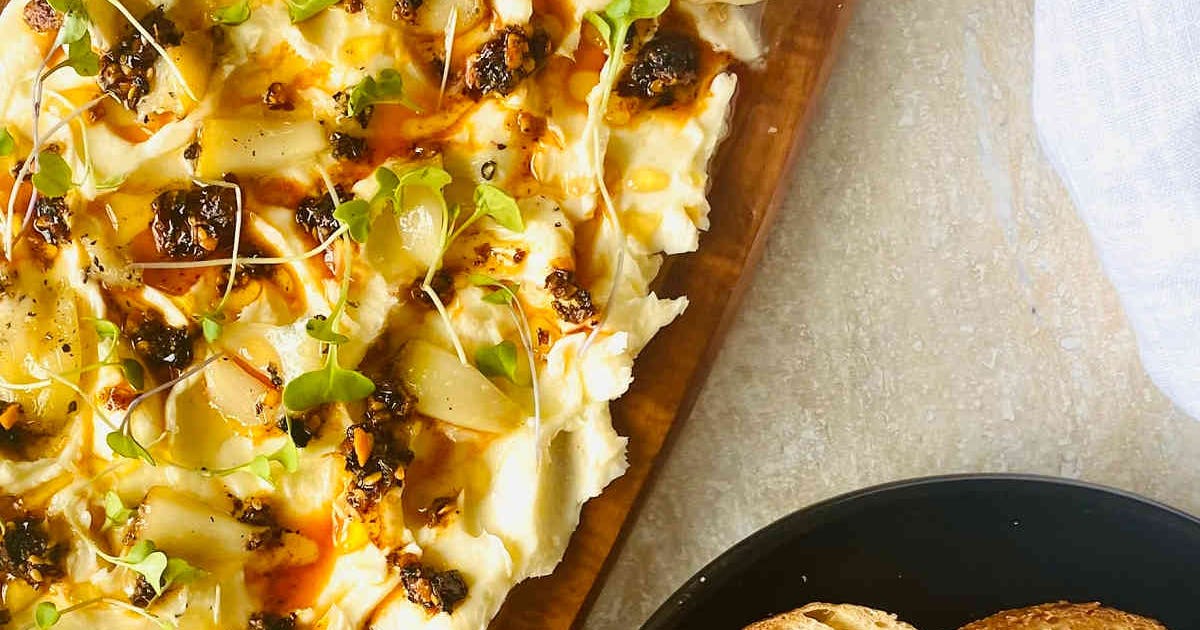 You would think that planning a soiree as joyful as a holiday party would be easy as (pumpkin) pie, but there's one detail that always seems to stop even the most type-A among us in our tracks: Deciding on the best holiday party appetizers to serve.
First there's the question of how much food to make, which is immediately followed with questions about dietary restrictions and prep time. With so many details to consider, it's tempting to pop open a bag of chips and call it a day. But for those looking to set up a spread that adds to the creativity and fun of the season, I've rounded up a few of the internet's favorite holiday party appetizers that are sure to set a festive mood during your next get-together.
And even better, this list of go-to favorites is organized by prep time, so you can start by preparing the first recipe (a make-ahead butter board that can set in the fridge) before moving onto the second (a convenient and tasty slow-cooker snack mix), then the third, and so on. This way, each snack will be served at its ideal freshness level, leaving you the mental energy to focus on the joy of the occasion and not worry about your prep strategy.
Ready to kick up the holiday joy a few notches? Keep scrolling to check out a few go-to appetizer recipes, then place a quick Amazon order for decor essentials and start hyping up the group chat, because this holiday party is about to be one for the books.
Sweet & Spicy Butter Board
If your social media algorithm hasn't introduced you to the "butter board" trend yet, allow me to clue you in. The fresh spin on beloved charcuterie boards involves setting up a spread that invites your guests to dip fresh slices of bread into a literal board of butter that's been gussied up with a mix of herbs, seasonings, spices, flavored oils, and even roasted garlic. This sweet and spicy butter board recipe from Aubrey's Kitchen can be quickly pulled together with just six ingredients, and can even be prepped in advance and stashed in the fridge until your guests arrive.
Slow Cooker Party Mix
When it comes to iconic holiday party bites, homemade snack mix has certainly earned its place in the hall of fame — and this recipe from Plain Chicken has the added advantage of being prepared in a set-it-and-forget-it slow cooker. Simply combine all the ingredients in your 6-quart slow cooker, set it to low, and let this salty and satisfying snack cook itself while you focus on setting up the rest of your spread.
Whipped Goat Cheese & Fig Crostinis
Crostinis are always a perfect party food, and this whipped goat cheese and fig version from Homemade Is Happiness is no exception. Get a head start on prep by slicing and toasting your baguette in advance, then top them off and plate them just before your guests are set to arrive.
Sweet & Spicy Bacon-Wrapped Meatballs
For a bite that checks the sweet, spicy, and savory boxes, look no further than these simple bacon-wrapped meatballs from The Gunny Sack. Brown sugar adds a kick of sweetness to the crispy bacon, making this fast and flavorful finger food one that your guests will look forward to year after year.
Vegetarian-Friendly Stuffed Mushrooms
In the category of "classic holiday party apps that never disappoint," stuffed mushrooms easily take the top spot, and for good reason. They're quick and easy for the host to prepare, and they offer your guests a delicious and no-fuss finger food. This umami-filled recipe from Two Peas And Their Pod can be whipped up in 40 minutes, which includes both prep and cooking time.
Buffalo Cauliflower Bites With Tahini Ranch
'Tis officially the season when the cold weather is made sightly more bearable with the help of all things buffalo sauce-flavored, and these no-fry buffalo cauliflower bites from Half-Baked Harvest fit the bill nicely. Word to the wise: You might want to consider adding enough ingredients to your Amazon Fresh cart to make a double batch, because once your guests try them with a creamy tahini ranch for dipping, they're practically guaranteed to go back for seconds.
This article was originally published on