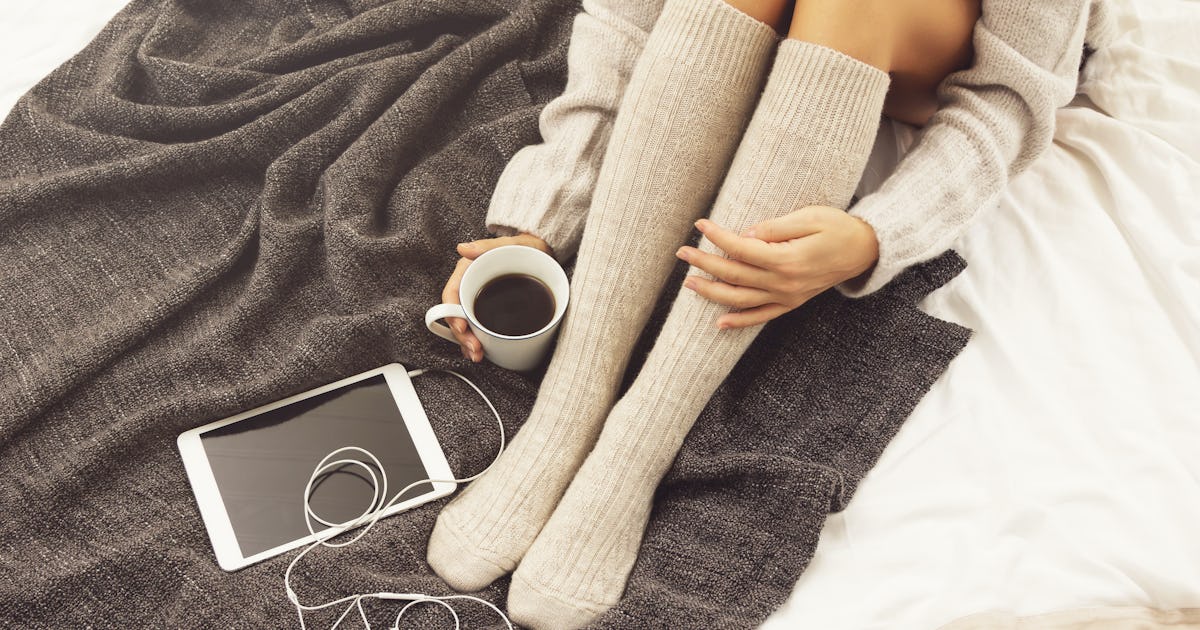 For an unrivaled affordable luxury, the best cashmere socks deliver comfort like no other. Cashmere comes with many of the same benefits of wool, like being lightweight, breathable, and moisture-wicking, but it's a step up in terms of airy softness — and it offers eight times the warmth as sheep's wool. You can wear cashmere socks to sleep in or to feel snug and cozy on a cold day. Self-care socks? Cashmere is at the top of the list.
What To Consider When Shopping For Cashmere Socks
Of course, 100% pure cashmere socks are the dream, but you'll be paying a premium for them. Since the luxury wool can be somewhat delicate, indulge in a pair of pure cashmere socks for sleeping or deep lounging, and then look for cashmere blend socks to wear out — because if there's one possible downside to cashmere, it's the upkeep: the material needs to be hand-washed. Cashmere is sometimes blended with synthetic fibers like nylon or polyester for extra durability, and spandex to add stretch, and these blends are more likely to be machine washable, so they're a better option for daily wear. Or, as a vegan alternative, try polyester faux fleece or acrylic knits; they're warm and comforting options that still feel indulgent.
From pure cashmere socks to a pair of over-the-top cashmere leg warmers (just wait until you layer them on a cold day), these are the best cashmere socks (and some cashmere alternatives) to slip your feet into when you need a daily treat.
1. The Dreamiest Tall Cashmere Socks For Sleeping
These ribbed knit cashmere bed socks are blended with 20% polyester so they're strong enough to pad around the house, but the brand recommends against wearing them with shoes. Notably, the polyester toughens up these cashmere socks just enough that they can be machine washed on a delicate cycle with the right detergent (like this one). With a calf length and seamless toe, they'll keep you wildly cozy and comfortable.
Enthusiastic Review: "Very warm and soft. You do NOT want to wear these anywhere besides bed – by nature, cashmere is not a good wool for socks that have any wear. But they are absolutely delightful for sleeping in cold weather."
Sizes: One Size | Colors: 2 | Material: 80% Cashmere, 20% Polyester
2. Some Splurge-Worthy 100% Cashmere Socks In A Cable Knit
It doesn't get much more lavish than a pair of pure cashmere socks. The Graham company knits its premium socks in Hawick, Scotland, which is known for its high-quality cashmere. These indulgent socks have a homey cable knit and gently reinforced toe, and the long cut feels comfortable all night. (Just make sure to hand wash them.)
Enthusiastic Review: "I love these socks – plain and simple – they are heavenly cashmere, soft, breathable, and warm. They don't bind anywhere and keep my feet comfortably warm all night. They wash well and don't need any special care."
Sizes: One Size | Colors: 9 | Material: 100% Cashmere
3. Editor's Choice: These Surprisingly Great Budget Cashmere Socks
These budget-friendly cashmere socks have a high dose of the luxury fiber — 97%, to be exact — and just a touch of spandex. The cashmere blend offers durable wear and the toe seam is all but imperceptible. (This pick will still need to be hand-washed and air-dried, however.) "These are my absolutely favorite socks — the perfect blend of soft and stretchy," noted former Bustle editor Carina Finn. "I wear them at home to lounge in, and with ankle boots in the fall and winter to stay warm. Especially for the price, it's really hard to find a better pair!"
Enthusiastic Review: "Not too thin, not too thick. Not too hot, not too cold. Not too loose, not too tight. Wash nicely. Like them so much I have 6 pairs. So soft! Just as nice as the ones I purchased while in Iceland!"
Sizes: 5-10 — 7-12 | Colors: 9 | Material: 97% Cashmere, 3% Elastic
4. Some Cashmere Leg Warmers For Peak Coziness
More versatile than boot socks, these cashmere leg warmers are made with 70% cashmere with 30% viscose to feel ultra-warm yet light, strong, and silky-soft. They're reinforced at the top and bottom so you don't have to worry about them slipping out of place, and they tuck perfectly into boots then scrunch down to just the right height without feeling bulky. Wear them with pajamas for the coziest loungewear, layer them under pants on bitterly cold days, or pair them with skirts and dresses between seasons.
Enthusiastic Review: "I love these over knee leg warmers. They are soft, warm , and the new colors are very nice. I have 3 pair: when I sleep in them, they pull down over my toes. […] The others I wear with skirts when it is cold out. My friends like them in the workout studio, when the windows are open and it is cold. The gray, black and dark blue are beautiful."
Sizes: one size | Colors: 12 | Material: 70% Cashmere, 30% Viscose
5. These Premium German Socks Made With A Blend Of Cashmere & Merino Wool
FALKE is a well-known German brand that stands for quality, and this pair of calf-high cashmere socks is about as cozy as it gets. The material is a mix of 30% merino wool and 17% cashmere for the softest feel, but there's also rayon and polyamide blended in for supreme durability (plus, they're machine washable).
Enthusiastic Review: "I have the cashmere Falke socks in a variety of colors. They are soft and warm. I feel like I am pampering my feet when they are on."
Sizes: 5-7.5 — 8-10.5 | Colors: 13 | Material: 30% Wool, 27% Rayon, 26% Polyamide, 17% Cashmere
6. These Cuff Socks Made With 100% Pure Mongolian Cashmere
Pure, Mongolian cashmere socks for an under-$50 price tag — these are worth an immediate "Add to Cart." This refined pair from State Cashmere features super-soft, 2-ply cashmere in a thick, ribbed design. The washing instructions include either dry cleaning or hand washing (with baby shampoo per the brand) to keep them in mint condition.
Enthusiastic Review: "bought these to deal with my perpetually cold feet at night ( yes, even in the summertime!) These socks were just the ticket. Warm without making my feet feel sweaty and they're so very, very soft. They've become an essential part of my bedtime routine. They are lightweight but so far seem quite sturdy."
Sizes: Small, Large | Colors: 4 | Material: 100% Cashmere
7. An Affordable 3-Pack Of Colored Socks In A Cashmere Blend
Made with a blend of cashmere, wool, nylon, and spandex, these vibrant cashmere socks are pretty and practical. Included in each box set are three different pairs of socks, although you don't get to specify which color. The available colors range from light pastels to bolder jewel tones; no matter which ones you get, they're sure to keep your feet warm and cozy.
Enthusiastic Review: "I love these socks. They are so thick and dense. They are the warmest, and yet so soft and totally comfy. Truly wonderful socks."
Sizes: One Size | Colors: 12 (three different colors per order) | Material: 85% Wool, 10% Spandex, 5% Nylon
8. These Ultra-Wearable Cashmere-Blend Socks
While the cashmere content in these mid-calf socks is only 10%, the material blend contains a hefty dose of merino wool, for a breathable and warm pair of socks to be worn on repeat. The socks also have absorbent cotton and silky-soft viscose and polyamide blended in for an all-around sturdy construction that can stand frequent wear.
Enthusiastic Review: "The cosiest and comfiest socks to wear out or around the house. These have kept my feet super cosy in -3 temperatures when out walking with the family. Highly recommend the quality and price. Such amazing value!"
Sizes: One Size | Colors: 6 | Material: 50% Merino, 40% Wool, 10% Cashmere
9. Some Chic Bronze Cashmere Bed Socks
In a gorgeous, rich bronze reminiscent of nights by the fireplace, these cashmere bed socks are the perfect way to pamper yourself at bedtime. They're made with 85% cashmere and 15% nylon for a softer-than-soft pair that feels luxurious to slip on. The cashmere is responsibly sourced from the steppes of Mongolia, and they even come in a giftable box, should you want to delight someone else with them.
Enthusiastic Review: "So soft and pleasing to the touch. Warm and cozy. Feels like a SPA at home."
Sizes: One Size | Colors: 1 | Material: 100% Cashmere
10. These Luxe Cashmere Socks Made In Scotland
Boasting 85% cashmere, these Lona Scott socks feel refined against your skin. They're made in Scotland for heritage quality, and unlike some other options on this list with high cashmere content, this pair can be worn with shoes (and they're machine washable). Reviewers love the "beautiful" colors on offer, too, from creamy white to pretty petal pink.
Enthusiastic Review: "Accept no substitutes. The most perfect bed socks for winter […] Put these on and you will have the best sleep of your life."
Sizes: One Size | Colors: 5 | Material: 85% Cashmere, 15% Nylon
11. Some Classic Cable Knit Socks In Pure Cashmere
These plushly soft cashmere socks from Karen Thomas are made with fine 3-ply cashmere, and they feature a classic cable-knit pattern for more visual appeal. Though most reviewers wear these for sleeping, the crew height pairs easily with your favorite leggings or joggers if you need to step out for a quick errand.
Enthusiastic Review: "I only use them to sleep in. They are very comfortable. The color is just beautiful and they are so soft. A bit of a splurge but I love them!"
Sizes: One Size | Colors: 3 | Material: 100% Cashmere
12. These Cashmere-Alternative Socks That Are Impossibly Soft & Comforting
These soft and luxurious mid-height socks from cult-favorite brand Barefoot Dreams have a gentle heathered fleece finish that looks — and feels — like a plush marshmallow. The 100% polyester construction can be machine washed and tumble-dried, plus they're strong enough to wear out of the house if you want a cozy pair that can handle all-day wear.
Enthusiastic Review: "Softest thing on earth. Incredible quality. Comes up to mid calf – which is nice because most socks like this don't. Keeps my feet toasty warm but not sweaty. Not too tight, not too loose. Just right!! You cannot go wrong with these socks. I'm not one to buy socks for people for Christmas but I'm going to give these as stocking stuffers because they're that amazing! I'm also going to buy myself a few more pair. Oh, and they wash great. Highly recommended!!!"
Sizes: One Size | Colors: 2 | Material: 100% Polyester
Worth Considering: These Luxe Slipper Socks
These UGG slipper socks are made from acrylic chenille cable knit with a cozy fleece lining, and the nonslip sole features traction dots so you won't go flying on wood or tile floors. They're machine washable for easy care. With both an included tag and bow, they're also perfect for gifting.
Enthusiastic Review: "UGGS are a family favorite, usually boots, but these comfy fleece insulated socks were definitely worth the purchase," one shopper commented. "My feet stay warm as I walk around on my tile and hard wood floors. Great Product."
Sizes: One Size | Colors: 3 | Material: 90% Acrylic, 7% Polyester, 3% Spandex
This article was originally published on