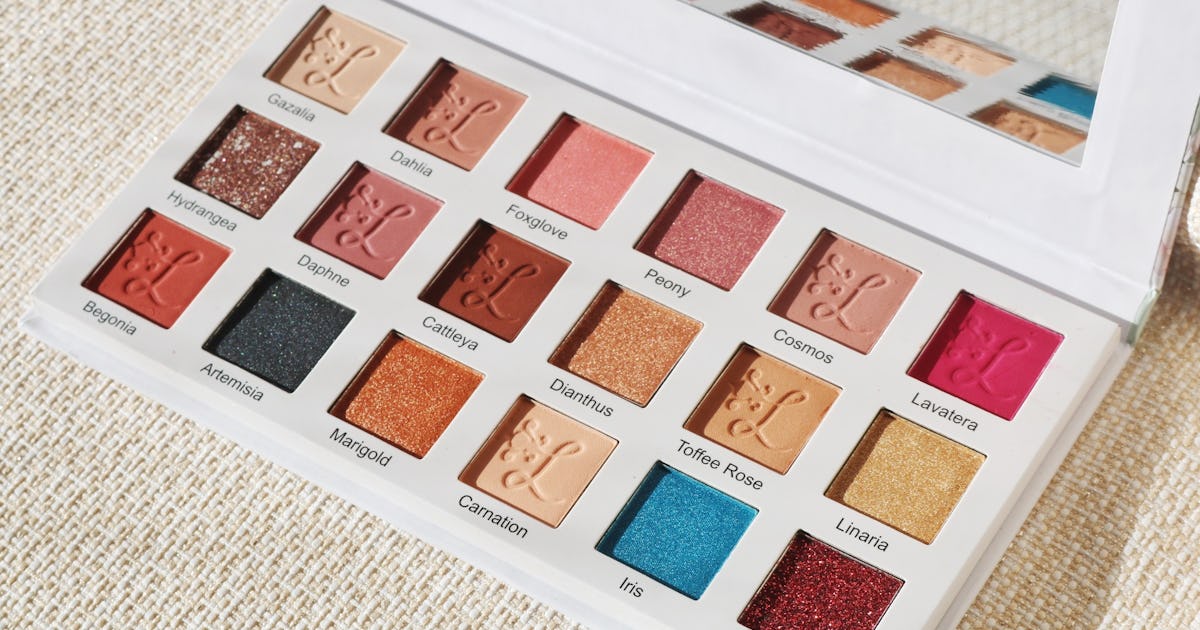 When you want to experiment with your makeup, no product is more up to the task than an eyeshadow palette. And if it's colorful, on-trend shades you're after, LeyMorriso Cosmetics has curated a floral-inspired palette that can be used any time of the year. The brand's Le Fleuriste Eyeshadow Palette is packed with pigmented shadows to help you master various looks, from soft shades of peachy pink topped with shimmer to bold, smoked-out Burgundy. Ahead, find out all of the details on the Le Fleuriste Eyeshadow Palette — plus, more about the new beauty brand.
About The Palette
The Le Fleuriste Eyeshadow Palette ($38) includes 18 shades that were inspired by (and named after) flowers. Formulated with silicones and emollients to give them a creamy feel and smooth glide, the shadows were designed to serve as a primer and eyeshadow in one. Thanks to a handful of neutral matte shades, like Gazalia, Carnation, Dahlia, Cosmos, and Toffee Rose — all of which have undertones of peach, pink, and red — the palette is quite versatile. But it's the shimmery shadows that are the real stand-outs here. Foxglove, Peony, and Dianthus will be your go-to for soft, sparkly pinks, while Hydrangea, Linaria, and Marigold give you bronzy hues that wear well on their own or when combined with the matte colors. The pigmented shadows can all be layered on for more intensity, but the palette also has several shades, like Lavatera, Iris, and the glittery Rose, that are bold from the very first swipe.
While you can obviously use your favorite eyeshadow brush to swipe and blend the shadows across your lids, I've found that the pigmented powders work best when applied with your fingers (this is especially true when working with the glittery shade Rose, which has a grittier texture). There is a bit of fallout with these shadows, so I recommend applying your eyeshadow first and finishing up with your concealer to avoid any loose pigment underneath your eyes.
About The Brand
LeyMorriso Cosmetics is a Black-owned small business that officially launched in October 2021. Founder Shirley Mbang created the line several years after immigrating from Nigeria to Montana, which is when she developed seasonal skin allergies including dyshidrotic eczema and severely dry lips. Her goal? To develop luxury formulations that combine cosmetics with skin care benefits — all while remaining cruelty-free.
Shop The Le Fleuriste Eyeshadow Palette
This article was originally published on