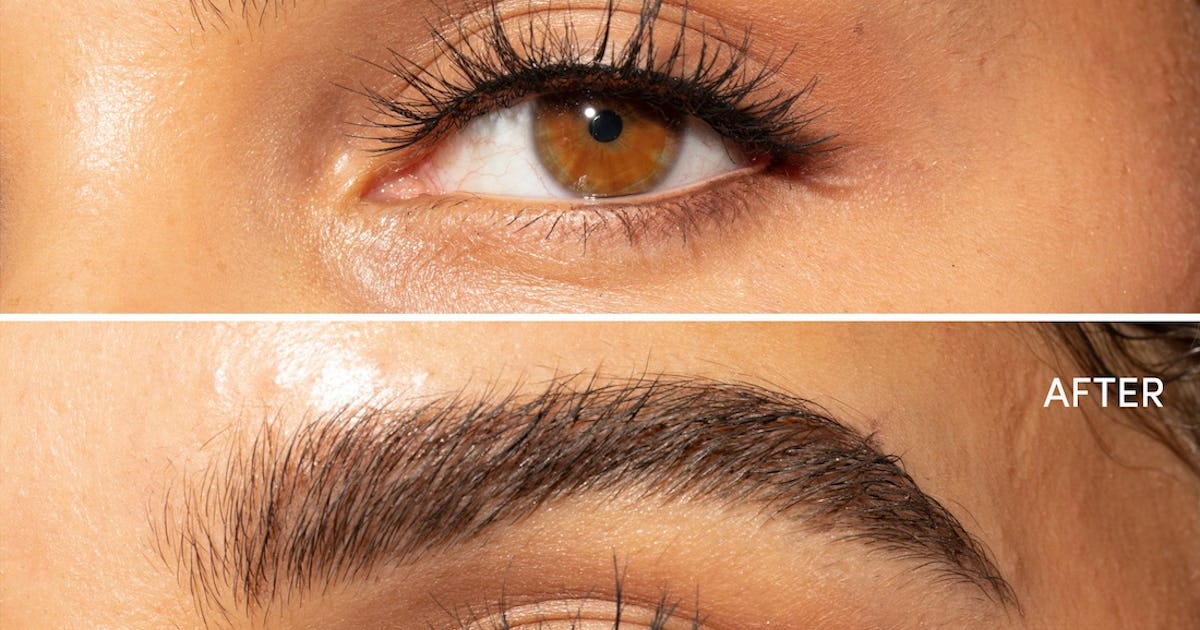 Unless you were blessed with full, perfectly shaped brows like Cara Delevingne and Brook Shields, you likely need a product (or two) to fluff them up, fill them in, and mold them into the shape you want. WONDERSKIN's new Dream Brow Gel-Serum aims to simplify the process for everyone, whether your brow routine entails filling in spares spots, sketching on defined arches, or simply brushing on a tinted gel. Ahead, you'll find a full breakdown of how the brand's latest launch combines the ability to tint, volumize, set, and even condition your brows into one compact product.
How It Works
WONDERSKIN's team of scientists spent three years perfecting Dream Brow to ensure that it delivers across multiple categories. Among the hybrid gel-serum's unique features is the brand's 24-Hour Color-Locking Technology, which latches onto both your skin and hair to give you waterproof and transfer-proof color for a minimum of 24 hours. To bulk up sparse spots and add definition, Dream Brow uses thickening silk powders. And then, there's the brand's patent-pending Healthy Brows Complex, which makes this a conditioning treatment for your brows as well as a cosmetic product. The hyaluronic acid and keratin in the complex work immediately to help keep your brow hairs moisturized and shiny, while biotin — another key ingredient — can potentially promote hair growth with continued use.
How To Use It
Before you get started, make sure you're working with brows that are dry and completely free of product. You can take the applicator wand and brush it directly onto your brows (always in the direction that your hair grows), or you can use the included dual-sided brush. One side of the tool features a slanted brush that allows you to precisely fill in and shape your brows, and the opposite end has a spoolie that's great for blending out any excess product and combing your brows into place. Once the gel-serum has dried, it will stay put through workouts, rain, and humid weather.
Who It's For
Because the product is both versatile and buildable, it can be used by just about anyone looking for a little brow enhancement. The product was designed to work with every brow type — from barely-there brows to naturally fluffy arches — and the formula is cruelty-free and made without common irritants. To precisely match your natural brows, you can choose from Blonde, Brunette, Dark Brunette, and Black shades, which are currently being offered for $22 each or as part of a 'Buy 2 Get 1 Free' special.
More About The Brand
You may already be familiar with WONDERSKIN thanks to their Peel & Reveal Lip Stain Kit that had everyone on the internet talking after it went viral on TikTok. But the brand has developed a small line of innovative makeup and skin care products, including an eight-minute face mask, an illuminating face cream, and a lip scrub pencil. To help with product development, WONDERSKIN works with a team of experts, including celebrity makeup artist Mélanie Inglessis and brow expert Renata Helfman. While the entire line is already cruelty-free (with many products being vegan, too), WONDERSKIN has also pledged to be as sustainable as possible with its ingredients and packaging.
Shop WONDERSKIN Dream Brow
Interested in trying out the brow gel-serum for yourself? Check it out via the link below.
This article was originally published on