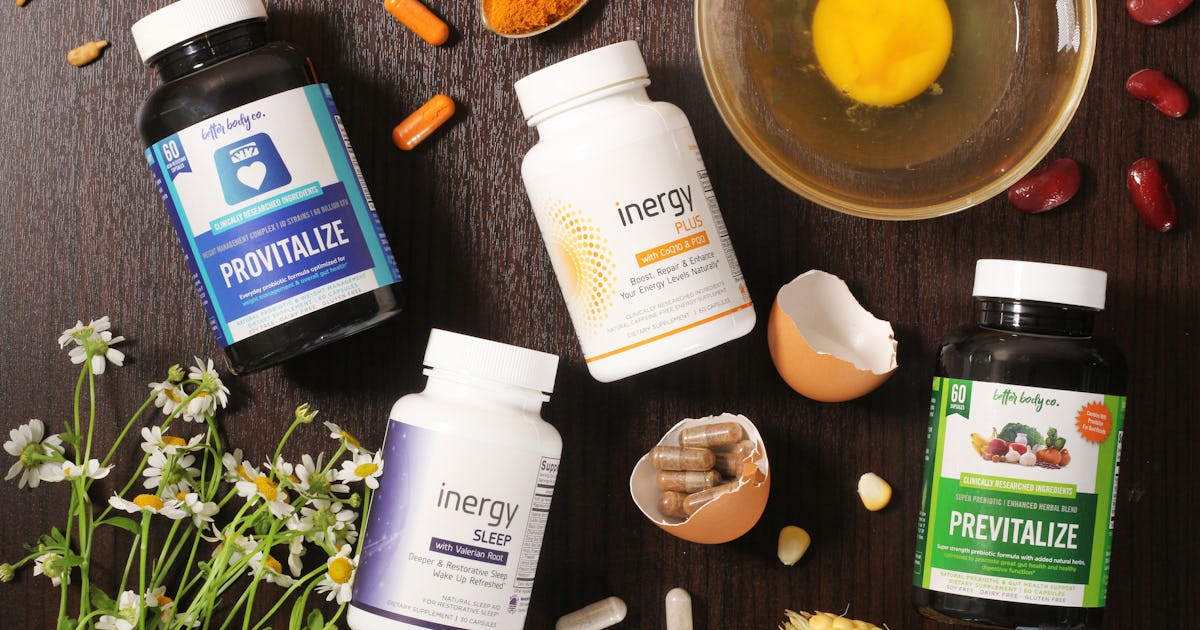 Mentioning the word "menopause" in casual conversation can sometimes feel like you're uttering a four-letter word. So in case you need a gentle reminder: Menopause is normal, natural, and doesn't require any treatment. That said, the symptoms associated with changing hormone levels can make it hard to live your best life. Rather than simply soothe symptoms, Better Body Co. — whose mission it is to empower women to take control over their changing bodies — is tackling the root cause of menopausal symptoms head-on with Provitalize, their specially formulated probiotic supplement.
Fast Facts:
$49 for a 30-day supply (60 capsules) or $39.20 to subscribe for a monthly delivery
Can help minimize menopausal symptoms by rebalancing the gut microbiome
100% natural formula includes three probiotics and an herbal blend
Vegan, gluten-free, GMO-free
A Gut-Centric Approach To Menopause
Gut health is a trendy topic in the health community, and for good reason: Research has revealed a link between gut health and myriad other health concerns, like immunity, food allergies, and even anxiety. Now, research shows that some of the most common menopause symptoms — like persistent bloating, unexpected weight gain, hot flashes, diminished energy, and sleep issues like insomnia and night sweats — are actually linked to what's going on in your gut.
According to research, the microbiome (aka the collection of bacteria living in your gut) is essential to a properly functioning metabolism, and during menopause, changing estrogen levels alter metabolic functioning. In turn, that can trigger those aforementioned symptoms associated with menopause that many women are all too familiar with.
Incorporating probiotics into your wellness routine can help rebalance your microbiome, minimizing the severity of menopause symptoms as a result. That's why, after years of research, Better Body Co. created their best-selling supplement, Provitalize, designed for women experiencing menopause.
Provitalize's formula includes a trio of powerful probiotics that can help reduce inflammation and support healthy metabolism, as well as a blend of natural herbs and extracts rich in vitamins and minerals, like turmeric root, moringa leaf extract, and curry leaf extract. Specially formulated boosters ensure maximum absorption and efficiency.
What Reviewers Say About Provitalize
With over 11,000 five-star ratings on Amazon and over 1,500 more on their website, Provitalize is becoming increasingly popular with women hoping to manage their menopause symptoms and take control over their health.
One reviewer wrote: "This is an amazing product to get rid of hot flashes! I immediately saw the difference, they have fast shipping and great customer support… been taking it for 6 months and will continue!"
Another reported: "I have been taking pre and provitalize together for about a year and I absolutely will NOT go without them. Better sleep, less bloating, and more stamina and energy throughout the day."
Many more report less painful gas, fewer night sweats, better-quality sleep overall, and that the supplements help with weight management.
Better Body Co.'s surveys on Provitalize reap positive results, as well. For example, among 904 recent returning customers:
94.7% reported experiencing some positive results
58.8% reported less bloating
43.5% reported fewer hot flashes
Another study among a set of 2,511 returning customers revealed:
77.5% reported some positive results
56% reported less bloating
35.8% reported fewer hot flashes
Is Provitalize Right For You?
While treatment for menopause symptoms is not strictly necessary, adding a supplement like Provitalize can help ease the intensity of menopause-related symptoms so you can live your life to the fullest. Plus, it's keto-, paleo-, and vegan-friendly, non-GMO, and stimulant-free which means this supplement can fit seamlessly into your wellness routine.
That said, it's important to consult with your doctor prior to trying Provitalize to make sure it's right for you. Probiotics can cause allergic reactions, infections, and other side effects, particularly in those who have recently had surgery, are critically ill, or experience issues related to their immune system.
If you do decide to try Provitalize after consulting with your healthcare provider, you can choose between two purchase options: A one-time purchase of a 30-day supply or a monthly subscription, which will also save you 20% off your order. A single bottle includes 60 capsules. For best results, take two in the morning, either with or without food — and, with regular use, you just might experience the relief you're looking for.
Studies referenced:
Becker, S.L., Manson J.E. (2020) Menopause, the gut microbiome, and weight gain: correlation or causation?, https://pubmed.ncbi.nlm.nih.gov/33235036/
Zeibich, L., Koebele, S. V., Bernaud, V. E., Ilhan, Z. E., Dirks, B., Northup-Smith, S. N., Neeley, R., Maldonado, J., Nirmalkar, K., Files, J. A., Mayer, A. P., Bimonte-Nelson, H. A., & Krajmalnik-Brown, R. (2021). Surgical Menopause and Estrogen Therapy Modulate the Gut Microbiota, Obesity Markers, and Spatial Memory in Rats. Frontiers in Cellular and Infection Microbiology, 11. https://doi.org/10.3389/fcimb.2021.702628
This article was originally published on