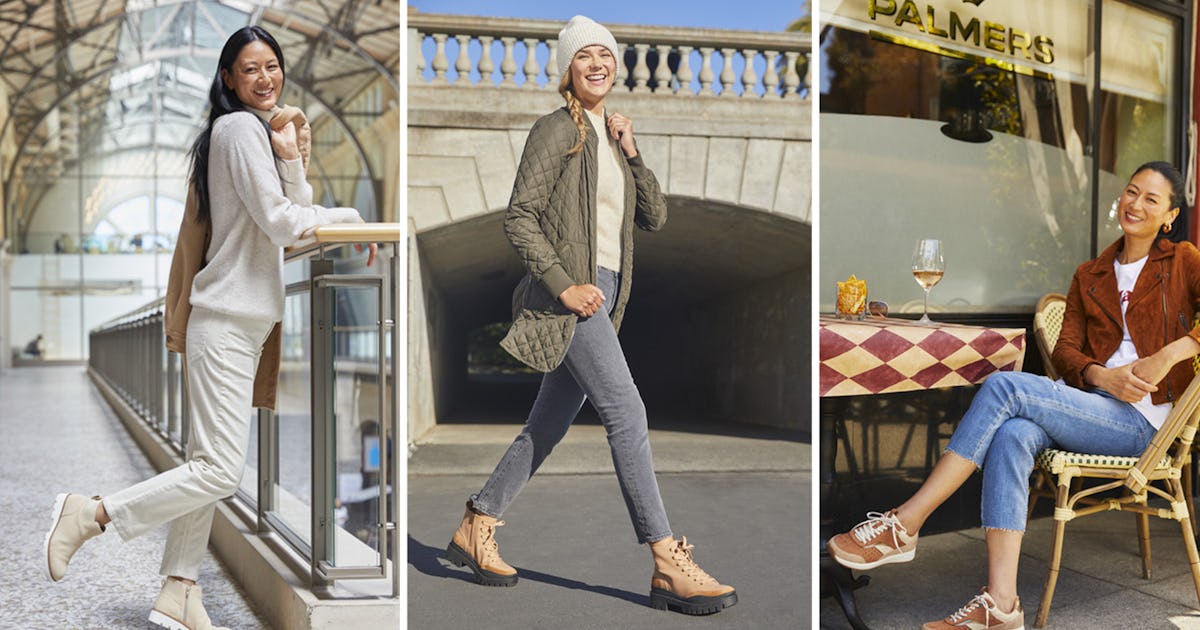 A good friend of mine used to joke that she knew I was avoiding an important life decision when I went shoe shopping. One fall, on the hunt for that elusive loafer or ankle boot that looks chic and can be comfortably worn all day, I made five shopping trips on five separate weekends only to come back empty-handed each time — with the exception of a spontaneous five-inch platform heel purchase I wore a grand total of twice.
Had I known about Vionic Shoes, a line of podiatrist-approved footwear that is (actually, for real) stylish, I would have probably made whatever life decision I was avoiding and ended up with more than an impractical pair of heels. Even with the best of intentions, footwear that's good for your feet often has a slightly clunky look. However, Vionic's shoes, from their metallic Nova sneaker to this lace-up heeled boot, have an elevated quality that evokes high-end luxury — a far cry from outdated orthopedic shoes.
Vionic Shoes is an Australian footwear brand that wants to change the idea of what a comfortable shoe can look like. Their ergonomically-designed shoes have a footbed designed by podiatrists who know the consequences of what habitually wearing uncomfortable shoes can do to someone's feet. Many of the brand's shoes even carry an American Podiatric Medical Association stamp of approval. Vionic's footwear is made with a patented technology called Vio-Motion™, which is an insole that offers three-pronged support: stability, arch support and cushioning.
It's important to note, however, that Vionic recommends wearing the shoes for just a few hours for the first few days to give your feet time to adjust to the footbed.
Shop Vionic's Stylish Fall Shoes
So much of Vionic's collection feels fall-ready, from a creamy loafer with a tortoiseshell chain to a suede Chelsea boot with lug soles. Scroll ahead for some of our favorites, as well as reviews from shoppers giving the brand's footwear high praise.
A glowing review: "All Vionic shoes have excellent arch support and springy padded soles. There are occasions when I would like to wear sneakers but need to be more 'dressed up.' I walk a lot on Manhattan sidewalks. Now I can wear these attractive shoes and not sacrifice my feet."
A glowing review: "I'm dealing with plantar fasciitis which has proven to be quite the challenge for me – walking our dog daily and just walking/standing. These sneakers are really, really great for me. I can wear for hours and my foot isn't in pain when removed and while I have purchased other Vionic sneakers – for me, these are – so far – the best."
A glowing review: "I cannot say enough great things about this boot! Sleek, stylish, fits SO well on the foot! I love that it is waterproof so it's perfect for wear in all types of weather. The inner zipper is also great makes getting the boot on and off very easy."
A glowing review: "These are just the cutest Chelsea boot. These are very casual Chelsea-style booties and will be perfect with joggers and jeans and chunky sweaters for fall. And because they are water-repellent, they are perfect for damp fall weather too."
A glowing review: "I bought my first pair a month ago (the macaroon) and these loafers are incredible! Don't wait… RUN AND GET YOURSELF A PAIR! Would love to see a leather version in a true brown someday. Just bought my second pair today."