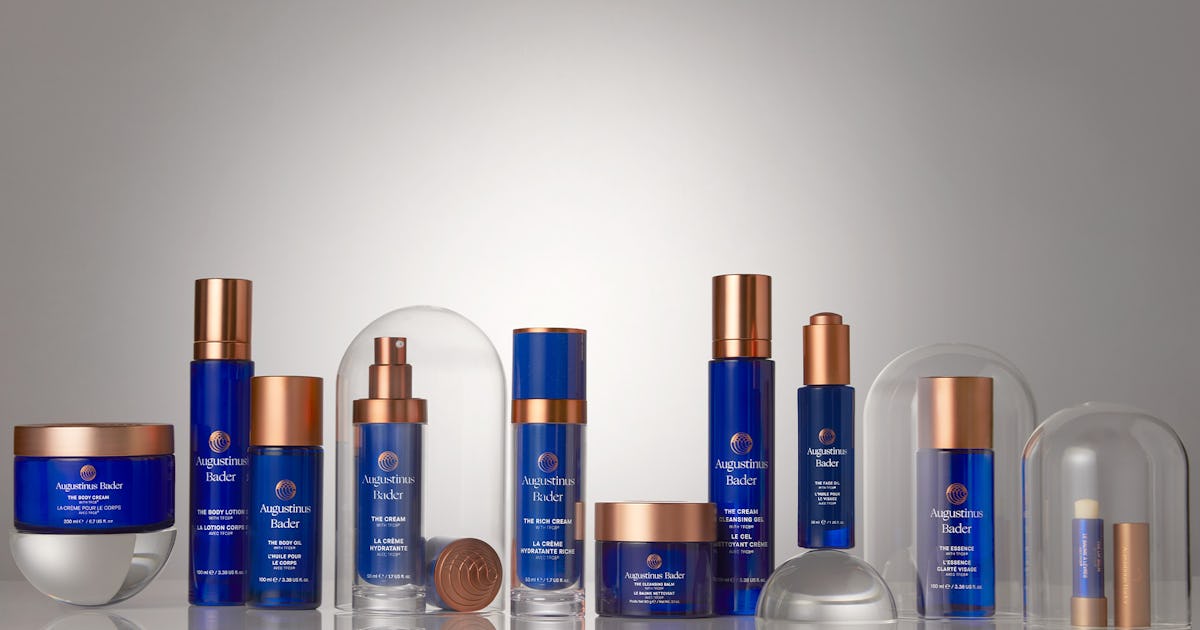 Have you ever wondered why so many celebrities are obsessed with Augustinus Bader? From Kim Kardashian to Victoria Beckham, the list of famous fans who love the brand goes on and on. But is it all just hype? Truth be told, not really. Not only is Augustinus Bader backed by over 30 years of scientific research, but of all the most popular luxury beauty brands, they have some of the highest scores on Yuka, an independent app that analyzes the quality and safety of ingredients found in food and personal care products. Confused? Intrigued? Eager to learn more? Then keep reading to find out what makes Augustinus Bader so special, and why they market themselves as a "clean" beauty brand.
What's The Deal With Augustinus Bader, & Why Is The Brand So Popular?
From Into The Gloss Top Shelfs to episodes of Succession, Augustinus Bader skin care products can be seen just about everywhere. One could attribute the brand's popularity to a few reasons. First, the brand really is backed by some serious science — it was founded by Professor Augustinus Bader, a scientist and physician who's world-renowned for his work in the fields of stem cell biology and regenerative medicine. One of Professor Bader's key areas of interest is the human body's ability to heal, and he applied his research to his eponymous skin care line, which is why you'll find a technology called TFC8 in all of the brand's skin care products (which, in short, supports strong, healthy skin not just in the immediate, but in the long term, too.)
But let's face it: Word of mouth can also account for a large chunk of the brand's popularity, especially when said words are coming from the mouths of celebrities like Hailey Baldwin and Priyanka Chopra. The fact that top facialists and dewy-skinned celebs use the brand speaks volumes; combine that with scientifically proven technologies, super-sleek packaging, and countless beauty awards, and you've got yourself a cult-favorite brand.
Is Augustinus Bader A Clean Beauty Brand?
Before we answer this question, let's get something out of the way: "clean" is just a marketing term, and it's most definitely not one that's regulated. When most people talk about clean beauty, they're probably referring to skin care products that are either organic, or made with mostly naturally derived ingredients. Still, it's important to note that "natural" doesn't automatically make something better, and chemicals aren't inherently bad. So, just remember that there's a lot of nuance surrounding the topic of clean, or "all-natural" beauty.
With that out of the way, it's totally understandable if you prefer to use beauty products that keep things simple (as in, they leave out a lot of fillers and chemical additives), or that contain ingredients derived from botanicals like trees and plants. If you're one of those people, and if that's what you mean by "clean," then yes, you're going to love Augustinus Bader. When formulating their products, they only use the highest-quality botanicals that are proven for their efficacy, or what they call "bio-engineered clean actives," like that aforementioned TFC8. Many of their products are vegan, too, and of equal importance is the brand's commitment to sustainability.
So How Does The Brand Rank On The Yuka App?
When it comes to their clean beauty claims, you don't just have to take the brand's word for it. On the Yuka App — which evaluates and ranks the ingredients found in everything from your favorite snacks to luxury beauty products — Augustinus Bader has some of the highest scores, especially when you compare them to brands in the same category. For example, two of the brand's most popular products — The Rich Cream and The Eye Cream — both have a 100/100 score, being made without any ingredients Yuka has deemed to be risky. (Keep in mind that you'll want to take Yuka's findings with a grain of salt, as the evidence behind some of the ingredients they've labelled as "hazardous" is murky at best.)
Which Augustinus Bader Products Are Worth The Money?
In terms of Augustinus Bader's award-winning face creams, the one worth splurging on will all depend on your skin type. For example, The Rich Cream is ideal for dry skin, while The Light Cream is a more suitable choice for those with oily skin. To help find your perfect moisturizer match, the brand does offer a "Find Your Formula" guide on the website.
If you're not quite sold on the idea of buying a $100+ moisturizer, however, the brand does make some less-expensive offerings that are suitable for most skin types. A great place to start would be The Cream Cleansing Gel, which is a lightweight, non-foaming cleanser that's powered by the brand's TFC8 technology (for best results, be sure to leave the cleanser on your skin for a few minutes before washing it off). Or, you could test the waters with the brand's starter kit, which includes mini bottles of their cleanser, essence, face oil, and classic cream.
What Are The Conclusions?
There's no denying that Augustinus Bader makes some amazing skin care products, and the fact that so much science has gone into them helps justify the amount of money they cost. Their sustainable ethos is a major selling point, as are their botanical-heavy formulas. Basically, if your budget allows, there's no reason not to try this hyped-up brand. But there's also no reason to go into debt over it, since there are plenty of great skin care products out there that cost a fraction of the price. At the end of the day, how you spend your money is up to you — but if you want to incorporate a little bit of Hollywood glamour into your skin care routine, you know which brand to turn to.