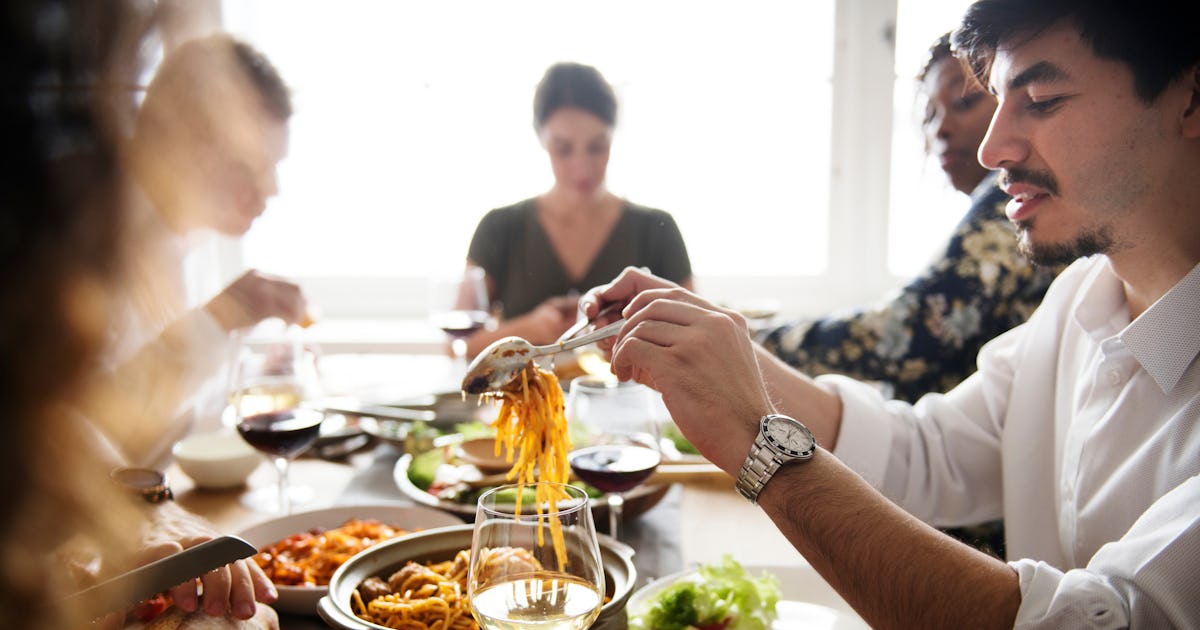 When it comes to Sunday dinner, Ashley McCrary-Mac — known to her 320K TikTok followers as @healthylittlepeach — has a few non-negotiables. First and foremost, it's gotta be delicious. Next, the recipe should feel elevated and memorable without requiring hours in the kitchen. And last and perhaps most important, the dish has to be something her whole family — kids included — will eat without protest.
Enter: The DIY pasta bar. This Italian-inspired take on Sunday pasta night ups the ante with Bertolli® d'Italia Sauces — they're made in Italy and are equally authentic and delicious. McCrary-Mac pairs her family's three fave Bertolli® d'Italia Sauces — Alfredo, Cacio e Pepe, and Marinara, specifically — with a mix of toppings and sides so everyone can get the bespoke dish of their dreams, no extra work necessary.
Here's how to recreate this fun dinner idea for yourself.
1. Pick Your Bertolli® d'Italia Sauces.
Whether you're a red sauce gal through and through or prefer to stick with rich, creamy classics, there are six unique Bertolli® d'Italia Sauces to choose from (or alternatively, you can just feature them all — go ahead, I dare you). And since these sauces are made in Italy, authentic, and delicious, you truly can't go wrong no matter what you pick.
Transport yourself to Italy with Creamy Rosa, made with Ricotta and Grana Padano PDO Cheese. For elevated restaurant-style flavor, try Cacio e Pepe, which features fresh cream, Pecorino Romano PDO cheese, and cracked black pepper. And when in doubt, stock up on classic d'Italia Marinara made with tomatoes vine-ripened under the Italian sun, Mediterranean olive oil, herbs, and garlic. Yum!
2. Choose Your Toppings.
This is where you can really get creative and let your flavor personality shine through. Cheese is a must — set out options like shaved parmesan and Pecorino Romano, plus blue cheese crumbles and feta for those who want to live dangerously.
Now comes the meat — chopped chicken breast and ground beef are low-lift go-tos (that you probably already have in your fridge), but bacon, prosciutto, and veggie meatballs would be fun additions as well.
Any vegetable would work here — from chopped tomatoes, steamed broccoli, frozen peas, and roasted red peppers, to currently-in-season zucchini, fresh corn, and summer squash.
Don't forget fresh herbs! Basil and parsley will go with practically any flavor combo, but thyme, rosemary, and sage would also be beautifully fragrant additions to your selection.
3. Assemble & Enjoy!
The beautiful thing about a pasta bar is everyone can get exactly what they want, without making the host feel like a line cook during the lunch rush. Kids will love the autonomy of choosing their own topping combos, and adults can get creative whether they elevate their typical pasta order or lean into an iconic classic.
Bon appetit!
Watch now.