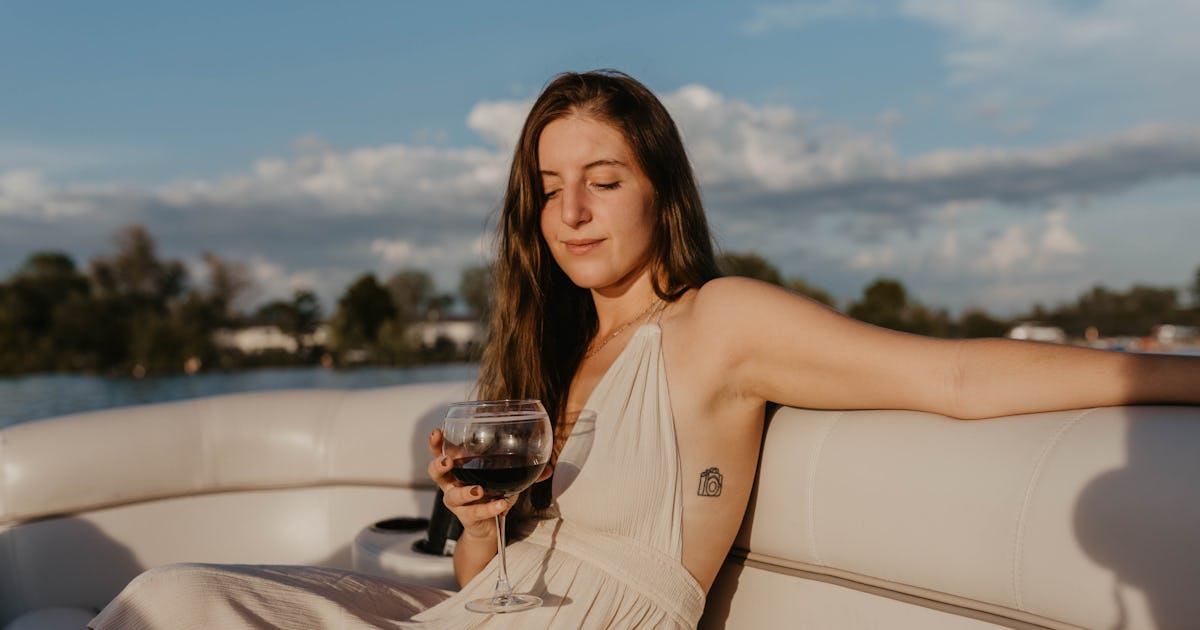 These days, it seems like everyone is (finally) leaning into a more low-key, live-in-the-moment mentality. That is, actually treating themselves on a regular basis and not saving indulgences for fancy affairs: Don't wait for a birthday to justify buying a sweet from that bakery down the street! And if you love the scent of that expensive perfume sitting on your vanity, spritz it on whenever you need a pick-me-up — no need to save it for a big night out. It all sounds pretty liberating, right?
That same "treat yourself" mindset is the idea behind Screw It! Wines, a collection of easy-to-sip varietals that require no real occasion to pour. Whether it's a laid-back weeknight, a raucous weekend vibe, or a dinner party for a small group of friends, Screw It! Wines has a refreshing (and affordable) wine that's right for any moment.
Ahead, see a selection of blends from its wide-ranging, low-cost lineup that are worth adding to your rotation ASAP.
A Crisper-Than-Ever Pinot Grigio
There's nothing like a glass of icy cold Pinot Grigio. Light, zippy, and perfectly sippable, Screw It!'s take on the light-bodied wine comes with aromas of plump peach and citrus — the ideal complement to an at-home cheese board. (No judgement if that cheese board includes store-bought cheddar and store-bought cheddar only.)
If you're looking to scale up the size for company or a weekend getaway, consider the 2L pouch design for easy pouring and packing.
The Red That Pairs With A Mezze Platter
You know that go-to bottle that doesn't cost too much and yet seems to go with everything? For me, that's Screw It!'s The Red, a full-bodied blend of succulent ripe fruits like rich cherries and soft plum. Add in some velvety character and a long, juicy finish, and that lush flavor is brought to another level.
If you're under the presumption that reds are only meant for meat-forward meals, you haven't had this one. It's a surprisingly spot-on pairing for a light mezze platter. Think: warm flatbread, grilled veggies, a bevy of Middle Eastern dips, and — if you're feeling like mixing things up — za'atar-sprinkled sweet potato fries.
A Blended White That's Made for Getting Together
Let's set the scene: a get-together with your faves that's way overdue. The venue? Your place. The timing? Super last minute. When the gathering comes at the eleventh hour, keep it easy with The White, a luxe-tasting wine with a captivating combination of bright fruits and satiny texture.
Need some takeout to make it a proper hangout? Thai curry and cucumber salad make for top-notch pairings. And, because there's a good chance your company will stay way into the night, might as well opt for the 4L boxed version. Wouldn't want to run dry at 9 p.m., now would we?
A Tastes-Like-The-End-Of-Summer Wine Spritzer
Despite the shift in seasons, I'm personally still clinging to the final dregs of summer: ticking off any last bucket list experiences, capturing every camera roll-worthy sunset, doing dinner al fresco even as the evening temperatures dip to sweater-appropriate temperatures. My drink of choice to toast away the sunny season? Screw It's Spritzed White Wine Peach. With notes of syrupy peach and subtle citrus, this spritzer comes with a delicate sparkling finish. Plus, compared to a regular glass of wine, its low ABV means you can enjoy it as an aperitif.