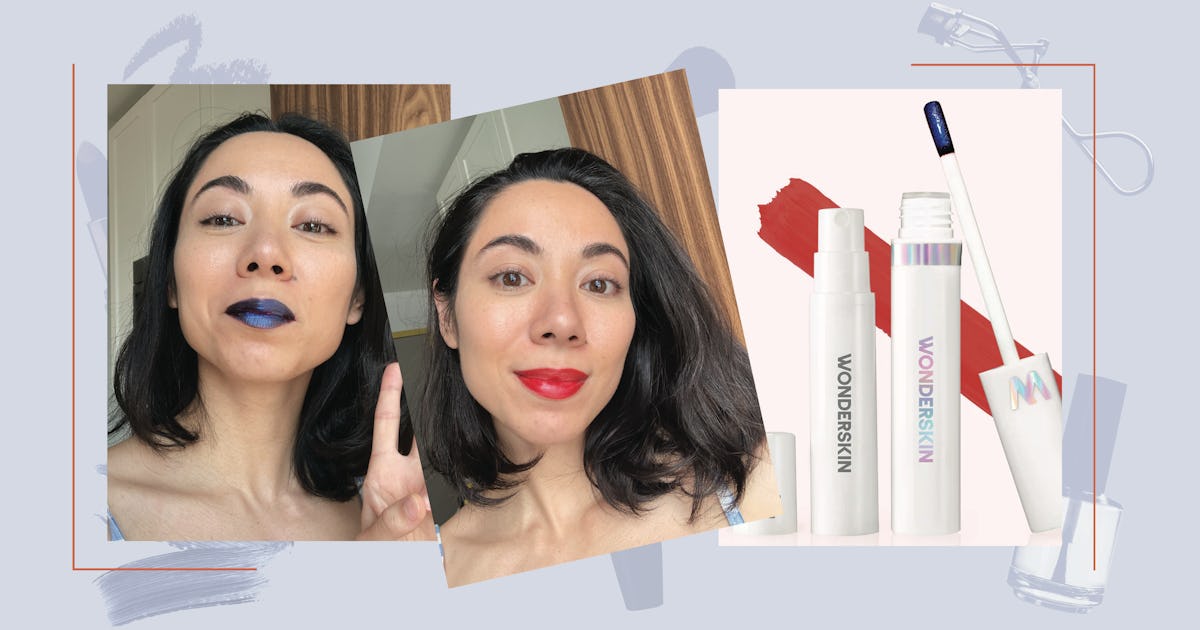 Setting out to make a lip product that can actually hold up to a day's worth of wear is no small task, but female-led brand WONDERSKIN took on the challenge. In 2020, it launched the WONDER BLADING Peel & Reveal Lip Stain Kit, with promises to combine the pigment of lipstick and the longevity of a lip stain. Soon afterward, it garnered high marks from critics and viral fame. With its shiny reputation and so many folks singing its praise, I was intrigued to test out WONDERSKIN's lip stain kit for myself and see how it really stands up to a full day of wear — and some greasy pizza, at that.
How Does The WONDER BLADING Peel & Reveal Lip Stain Kit Work?
While "long-lasting" lip products are a dime a dozen, what makes the Peel & Reveal Lip Stain Kit unique is its patented Liquid Blading technology. It's formulated to transfer the pigment onto your lips and lock it in place, so you can eat, drink, and go about your day without reapplication. And while the word "blading" might bring needles to mind, I can assure you that applying the product is in no way painful.
The application process comprises three steps: First, apply two coats of the WONDER BLADING Lip Masque and wait 45 seconds (or longer if you want a super-pigmented finish), then spritz the included Lip Activator mist onto your lips. The Lip Masque goes on a vibrant (almost shocking) metallic blue color, but when you peel or wipe it off, you'll be left with a pout in the color of your preference.
The Peel & Reveal Lip Stain Kit is offered in 12 shades, ranging from neutral to bright to vampy colors, including a gorgeous burgundy red (named Divine) that once amassed a 25,000-person waitlist, according to WONDERSKIN. Plus, it's vegan, and it skips out on alcohol that might dry out your lips.
My Experience With The WONDERSKIN Lip Stain Kit
I opted to try the WONDERSKIN lip stain in Glamorous, which is a "classic red." The Lip Masque had the jelly-like texture of lip gloss, and while I was nervous of painting outside my lips, the applicator wand made it easy to control where and how much product I applied. I made sure to layer on the product until my lips were fully coated, then waited one whole minute. While I waited, I could feel the Lip Masque drying up, which led to the fun part of the process: peeling it all off.
After spritzing on the Lip Activator, I used my fingers to peel off the Lip Masque, which came off in one swift motion. (If you want to avoid staining your fingertips, I'd recommend using the wipe included in the kit.)
The reveal was so gratifying. Underneath the initial blue color was a pretty red hue. It applied evenly and while I could tell I was wearing something on my lips, it felt more lightweight than a standard lip gloss or lipstick.
As impressed as I was by this, I knew that the real test would be seeing how long it could last. I put it through the wringer — keeping on from my first coffee to slices of pizza for lunch, then all the way down to a last glass of wine before calling it a night. By the end of the day, it wasn't as opaque as when I first applied it, but it didn't look streaky or leave a weird ring of color around the outside of my lips either. What's more, it felt comfortable throughout the day.
If anything, the only problem I had was taking off the lip stain at the end of the day — it required more than a few passes with an oil-based makeup remover. While this might be a trade-off for some folks, there's no denying the lip stain's long-lasting wear. (And WONDERSKIN happens to make its own makeup remover to make it easier, too.)
The Verdict
I've tried countless long-lasting lip color formulas, but rarely do they live up to their promises. After trying out the WONDERSKIN Peel & Reveal Lip Stain Kit, I'm now considering wearing bold lipstick more often — something I've often avoided because of the upkeep. Well, this product easily solves that issue, and I already have plans to take it for another spin.
More Long-Wearing Products From WONDERSKIN
This article was originally published on