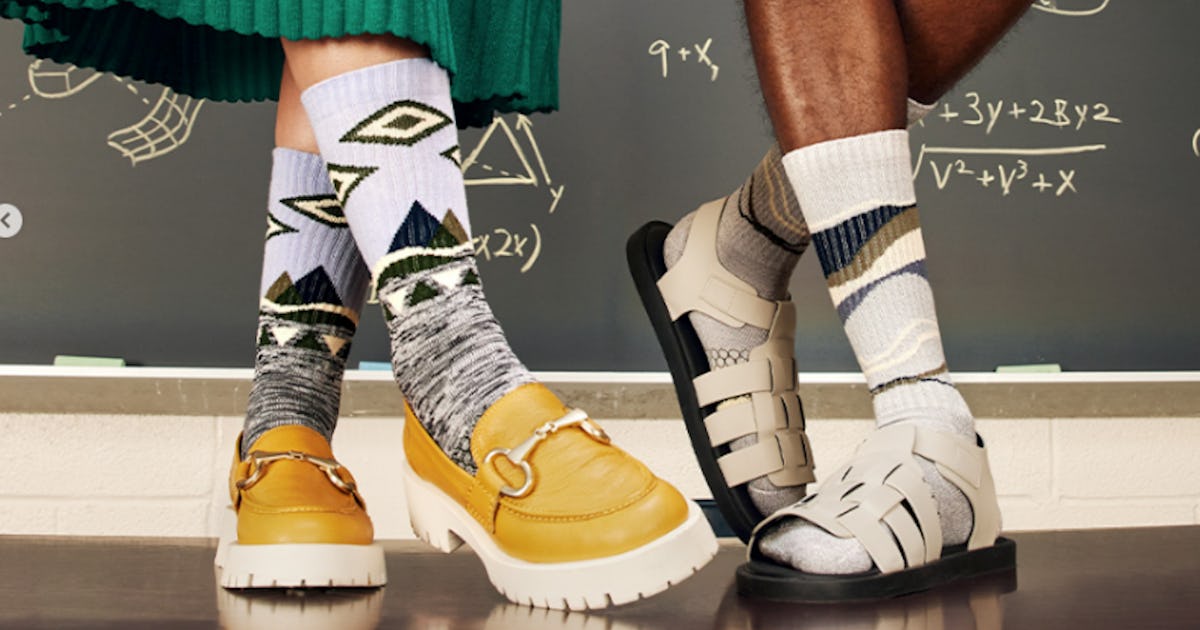 Whether you're actually in a classroom this fall or simply of the "bouquet of sharpened pencils" mentality like myself, the back-to-school season is a favorite time for revamping (or upgrading) your wardrobe. My personal favorite upgrade to make? Basics. And if you're looking for the best of the best in basics, Bombas is the way to go. While their socks are a personal favorite of mine, they've also expanded to design high-quality underwear, T-shirts, and even slippers so you can stock up on all the basics you need.
Why I love my Bombas socks
Nearly three years ago to this day, I decided it was finally time to upgrade my ratty mismatched socks once and for all. This revelation brought me down internet rabbit holes and into the dark depths of Reddit threads in search of the highest quality socks out there. And ultimately after perusing review sites and asking my friends and family, that search led me to the Bombas' website. I've never looked back.
First and foremost and I'm not embellishing, Bombas' socks are the best I've ever worn. Prior to launching their socks, Bombas spent years (yes, years!) testing and trying out different sock designs and materials to ensure they are bringing the absolute best socks to the market. And to put it simply, it shows. My favorite pair is their performance ankle socks which are made with a proprietary Hex Tec fabric that is breathable and great for sweaty feet or workouts. They're comfortable, seamless, and stay in place — so great, I wear them to daily regardless of what I have planned.
Amongst my family, Bombas has reached a near god-like status. My sisters and I also love their no-show socks for a more discreet look and they're even my niece's favorite socks to wear. Once you crossover into the world of Bombas, be warned, you won't look back. Their no-show styles have a "stay put" heel grip that holds them in place so they don't slip down. They also have a seamless toe that limits any irritation when you're on your feet for long stretches of time.
While I'm partial to the neutral colors, Bombas' most popular styles come in so many different colors, as well as heights like quarter-, calf-, and knee-high socks. They also make socks in baby, toddler (my niece's personal favorite), and youth sizes. These socks are even designed with built-in grips to keep from slipping all over the place. Their back-to-school collection is full of different kid's designs and lengths so you can outfit everyone this fall.
More than just socks?
If you primarily know Bombas for their socks, let me introduce you to their T-shirts, underwear, and slippers. With the same attention to detail and quality, Bombas began releasing T-shirts in 2019, and now they have athletic and everyday T-shirts, tank tops, and long-sleeved tees. Their active tees are designed to be moisture-wicking for workouts and feel soft and lightweight so it breathes.
Beyond activewear, they also have a bunch of styles of underwear in a range of cuts and colors. I was shocked to see so many options of mix-and-match packs you could invest in to save money or single pairs to try out for yourself. Their underwear comes in a high-rise, low-rise, medium-rise, briefs, thongs, you name it. A bunch of their styles is also seamless for maximum comfort.
The Bombas Mission
And, while Bombas makes socks, yes, they're one of the few companies I've stumbled upon with an ethos as impressive as the socks you're buying. They're committed to helping people everywhere access good quality clothing. They've launched a giving program where they donate socks and items of clothing to shelters, nonprofits, and organizations dedicated to helping at-risk or homeless communities. For every pair of socks you buy, one is donated to someone in need. To date, they've donated 50 million items of clothing.
This is all just to say, while it may seem like the easier route to buy a cheap pair of socks every two months, investing in Bombas's socks saves you money in the long run and has the added benefit of actually helping communities across the globe.
Would I recommend Bombas socks?
I have nothing to say but wonderful things about Bombas socks, and after having them for years I can say they're super durable and worth the money. If you're looking to upgrade your basics for the fall, you can't go wrong with any of their back-to-school collection. Whether you're headed back to school, or just look looking for incredible socks, underwear, or basic tees, Bombas is the way to go.
This article was originally published on